Skip to Content
How To Clean Granite Countertops
Granite countertops are an excellent investment that adds value to your home. They also significantly beautify your kitchen, bathroom, or any other space in your house.
A little granite can go a long way when it comes to sprucing up your living space and making your design more interesting, but it's important to properly maintain the surface.
Keeping your granite clean is essential if you want it to remain attractive for decades. Fortunately, this is a simple and straightforward task. Read on to learn how to clean granite countertops the right way.
Know Your Countertop
The first step in cleaning your countertops is knowing what type of stone they are. Engineered stone is a human-made material, composed of different types of crushed rock, with a uniform color and pattern. Marble, which is a uniform slab of rock, is generally a single shade with different veins of color.
Granite has a bunch of different speckles of color, and, like marble, is one solid slab. Granite is often sealed and thus is easier to clean. If you do not seal your granite countertops, you leave them at risk of becoming dirty and even worse, permanently stained.
Make sure you understand what your countertop is made of before you start cleaning.
Cleaning Granite Countertops
To clean granite countertops, start by wiping down the surface of your countertops with warm, soapy water. Once you've wiped your granite counters, rinse them with water and dry them with a soft cloth.
To remove stains from a granite countertop, you can use a paste made of molding plaster and bleach. This paste will completely absorb the stain out of the granite.
Disinfecting Granite Countertops
All around, granite is generally impenetrable to microorganisms. Hot water and dish cleanser should be satisfactory for day-to-day disinfecting. For more aggressive disinfecting, you can combine a 50:50 mixture of water and 91% isopropyl alcohol in a spray bottle.
Shower the cleaning solution onto the stone, and let sit for three to five minutes. Then, rinse the surface with water and dry with clean microfiber fabric. Stay away from bleach or smelly salt-based cleaners, as they strip away the protective seal on your granite countertop.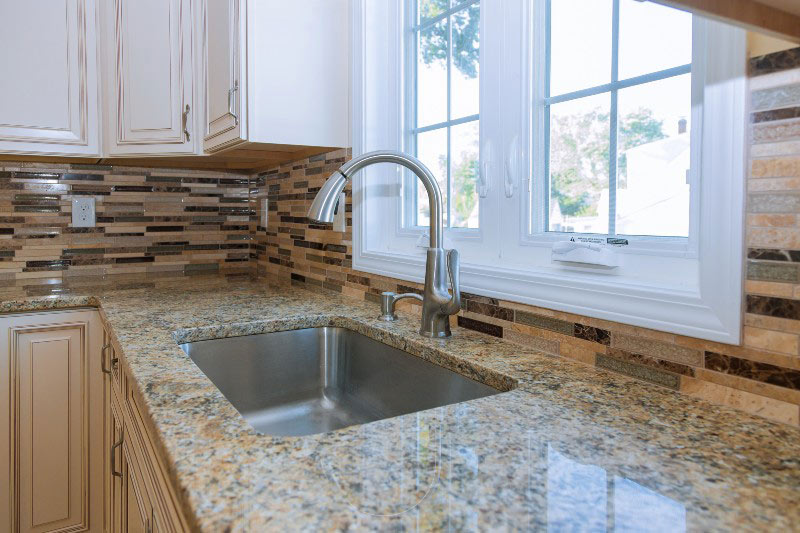 Things to Consider
Although granite comes sealed, this only renders it stain-resistant. Instantly wipe up all spills—particularly wine, juice, and oil—so they don't have enough time to bring flaws to your granite.
Make sure to blot stains instead of wiping them. Using microfiber towels and rags are ideal, as you would prefer not to spread them over a more extensive surface and transform them into spots.
Never use scouring powders or rough cleansers. Keep unforgiving cleaners like dye or salts from the stone counter, and avoid cleaners containing acids like lemon and vinegar. After some time, these trickle down and strip the sealant on the granite. The seal is essential for keeping the countertop clean, germ-free, and food-safe.
The Bottom Line
With proper care and maintenance, granite countertops can maintain their beauty and functionality for decades. Whether you have granite countertops in your kitchen or bathroom, you'll need to clean your countertops with some regularity to keep them looking like new. For most spills and stains, it doesn't take more than dishwashing fluid and a soft sponge.
If your old granite countertops are past their prime, or if you're thinking about replacing your laminate or tile countertops with granite, get in touch with Rock Solid kitchen and bathroom countertop company in Littleton, CO. In addition to helping you select a new granite countertop for your kitchen or bathroom, our experts can help with other aspects of your kitchen or bathroom remodel project.