Skip to Content
Choosing the Right Natural Stone for Your Kitchen Island
Your kitchen island near Littleton deserves as much attention as the rest of your kitchen's décor and countertops. Using a natural stone—such as granite, marble, or soapstone—is a great way to make your kitchen island sturdy, attractive, and built to last for a lifetime. Let's take a brief look at how to choose the right natural stone for your kitchen island.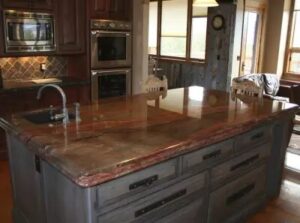 Look at Maintenance Requirements
Natural stone is a durable and sturdy countertop material that can last for decades or longer, depending on how well you care for it. While granite, marble, and soapstone make strong countertops, they all require basic maintenance throughout their lifetimes. Soapstone is a non-porous natural stone, meaning it will not stain. However, it still requires regular cleaning with non-abrasive cleansers to maintain its look. Granite and marble are the most popular kitchen island materials, but they must be sealed against water and staining properties throughout their lifetimes. Weigh the different maintenance requirements you wish to regularly uphold to help choose the right natural stone material.
Consider the Overall Décor Scheme
Your kitchen and house's overall décor will likely influence the type of natural stone countertop you choose. For example, soapstone is typically found only in a light gray color that darkens over time. If you prefer a different color to match your current décor, then you will have better choices with marble or granite. Both stones come in a variety of unique colors and designs because they are natural and mined directly from the earth. Keep in mind that your countertops will not fully match due to the unique properties that contribute to the veining and speckling makeup within marble and granite countertops.
Remember Your Personal Preference
In addition to the previous tips, remember to take your own personal preference into account when designing your kitchen island. If you love the idea of beautiful and luxurious granite countertops, then these are going to look best on your kitchen island. If you prefer the weathered look of soapstone, then this stone will be the best choice for you.