Skip to Content
Bathroom Countertops in Littleton & Durango, CO
Stone adds natural beauty and elegance to any bathroom, offering a long-lasting surface that is ideal for bathroom vanities. Whether you're building a new home or planning a bathroom remodel, Rock Solid Custom Granite carries a wide selection of granite, quartz, soapstone, and more to customize your new bathroom's look and feel.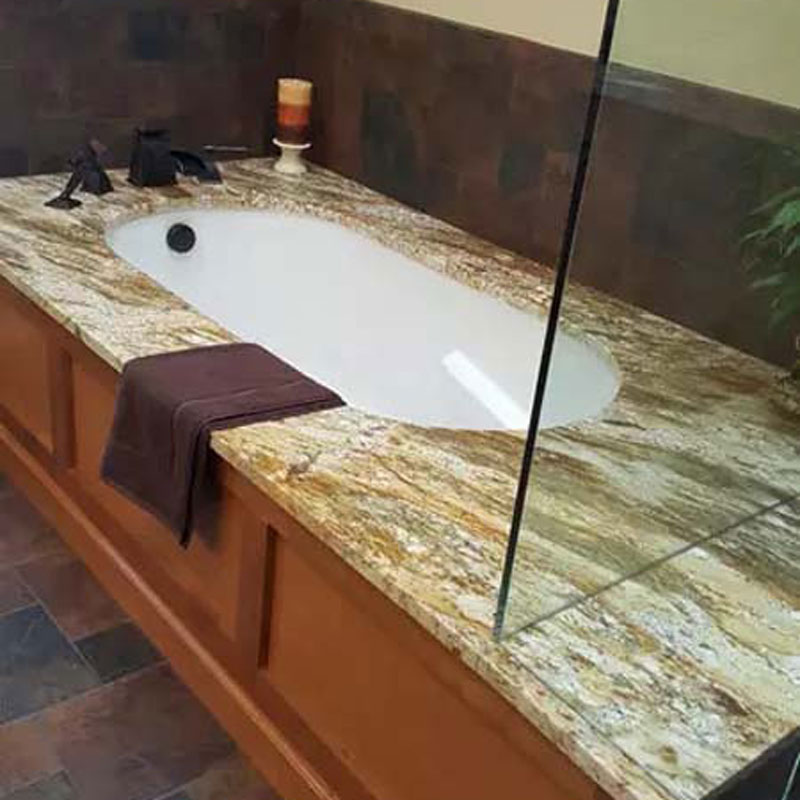 Quartz vs. Granite in the Bathroom
Quartz and granite are two of the most popular choices for bathroom vanities but are two very different types of stone. These two products offer similar features, but each carries its own unique traits and benefits as well.
Quartz is an engineered stone with ground natural quartz and resins that have been baked and polished. The actual quartz content varies between manufacturers. Because it is manufactured, you can ensure that each quartz surface in your home looks identical if you wish. Quartz is available in hundreds of different colors and patterns, including many that capture the look of various types of marble but do not require sealing to maintain the surface.
Granite is an igneous rock that is very difficult to scratch. Each piece of granite is unique so your bathroom countertops will have a varied and natural appearance, although they can be similar in color and style. With the application of 15-year sealer and the proper care, it will offer a lifetime of beauty in your bathrooms.
Choosing the Perfect Bathroom Countertop
Your bathroom countertops are a reflection of your personal sense of style. The countertops you choose will set the atmosphere in your bathroom, whether you want to convey a sense of luxury or rugged charm. Your ideal bathroom countertop should balance aesthetics with function to meet your needs and preferences. No matter how often you will be using the room- granite or quartz are a great choice for frequently-used all-purpose bathrooms, while marble provides a classically elegant look that is easier to maintain in a powder room that sees only occasional use. Our very knowledgeable staff will assist you to select a material that will serve you for many years to come!
Rock Solid Custom Granite is here to help with your next bathroom upgrade. Our stone experts can assist you with bathroom countertops, vanities, showers, and more. Contact us today.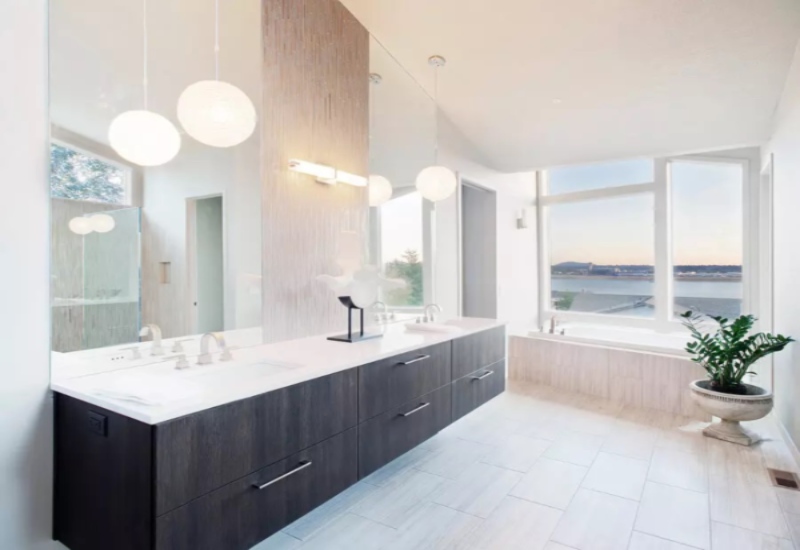 Count On Us For Your Next Bathroom Remodeling Project
Transform your bathroom into a tranquil oasis with Rock Solid Custom Granite's premier bathroom countertop installation services. We specialize in creating stunning and functional spaces that reflect your unique style and taste. Our team of skilled professionals in Durango and Littleton, CO, is committed to delivering exceptional craftsmanship and attention to detail in every project. Contact us today for a complimentary consultation and take the first step towards creating the bathroom of your dreams.
Top Benefits of Stone Bathroom Countertops
Stone bathroom countertops offer a range of benefits that make them a popular choice among homeowners. Some of the top advantages include:
Durability – Stone countertops, such as granite or quartz, are highly durable and resistant to scratches, chips, and cracks. They can withstand the daily wear and tear of a bathroom environment and maintain their beauty for many years.
Aesthetic Appeal – Stone countertops bring natural beauty and elegance to bathroom spaces. With various options like granite, marble, quartzite, and soapstone, you can choose a stone that matches your desired aesthetic, whether classic, contemporary, or luxurious.
Heat and Moisture Resistance – Stone countertops naturally resist heat and moisture, making them an ideal choice for bathroom settings. They can withstand hot styling tools, steam from showers, and moisture without warping or damage.
Easy Maintenance – Stone surfaces are relatively easy to maintain. Regular cleaning with mild soap and water is typically sufficient to keep them looking their best. Proper sealing can enhance stain resistance and longevity.
Increased Property Value – Installing stone countertops in your bathroom can increase the overall value of your home. Potential buyers are often attracted to the durability, beauty, and timeless appeal of stone surfaces, making them a desirable feature in real estate.
Versatility in Design – Stone countertops offer versatility in design, allowing you to customize your bathroom space. With various colors, patterns, and finishes available, you can create a unique and personalized look that complements your bathroom decor and style.
Hygienic Surface – Stone countertops provide a hygienic surface in bathrooms. When sealed, they are non-porous and less likely to harbor bacteria or germs. This makes them a sanitary choice for areas where cleanliness is crucial.
Longevity – Stone countertops are known for their longevity and ability to withstand the test of time. With proper care and maintenance, they can retain their beauty and functionality for decades, providing a long-term investment for your bathroom.
Contact Rock Solid Custom Granite Today
At Rock Solid Custom Granite, we take pride in providing exceptional bathroom countertop installation services in Durango and Littleton, CO, and beyond. Our team of skilled professionals is dedicated to transforming your bathroom into a space of unparalleled beauty and functionality. Whether you prefer the classic allure of marble, quartz's contemporary elegance, or granite's durability, we offer a wide selection of premium materials to suit your style and preferences. Contact us now to schedule a consultation and let us bring your bathroom vision to life with our luxurious countertop installations.
Schedule Your Free Estimate Today