Skip to Content
Bathroom Countertops
Stone adds natural beauty and elegance to any bathroom, offering a long-lasting surface that is ideal for bathroom vanities. Whether you're building a new home or planning a bathroom remodel, Rock Solid Custom Granite carries a wide selection of granite, quartz, soapstone, and more to customize your new bathroom's look and feel.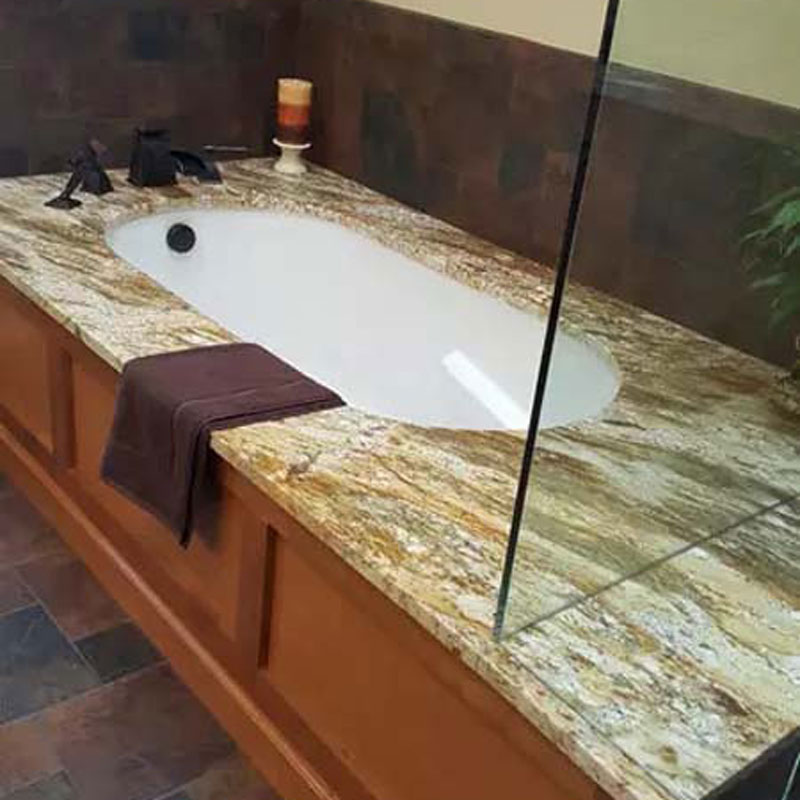 Quartz vs. Granite in the Bathroom
Quartz and granite are two of the most popular choices for bathroom vanities but are two very different types of stone. These two products offer similar features, but each carries its own unique traits and benefits as well.
Quartz is an engineered stone with ground natural quartz and resins that have been baked and polished. The actual quartz content varies between manufacturers. Because it is manufactured, you can ensure that each quartz surface in your home looks identical if you wish. Quartz is available in hundreds of different colors and patterns, including many that capture the look of various types of marble but do not require sealing to maintain the surface.
Granite is an igneous rock that is very difficult to scratch. Each piece of granite is unique so your bathroom countertops will have a varied and natural appearance, although they can be similar in color and style. With the application of 15-year sealer and the proper care, it will offer a lifetime of beauty in your bathrooms.
Choosing the Perfect Bathroom Countertop
Your bathroom countertops are a reflection of your personal sense of style. The countertops you choose will set the atmosphere in your bathroom, whether you want to convey a sense of luxury or rugged charm. Your ideal bathroom countertop should balance aesthetics with function to meet your needs and preferences. No matter how often you will be using the room- granite or quartz are a great choice for frequently-used all-purpose bathrooms, while marble provides a classically elegant look that is easier to maintain in a powder room that sees only occasional use. Our very knowledgeable staff will assist you to select a material that will serve you for many years to come!
Rock Solid Custom Granite is here to help with your next bathroom upgrade. Our stone experts can assist you with bathroom countertops, vanities, showers, and more. Contact us today.
Schedule Your Free Estimate Today