Skip to Content
Quartzite Counters in Littleton & Durango, CO
Rock Solid Custom Granite: The Best Quartzite Supplier
Upgrade your kitchen with the timeless elegance of quartzite countertops. At Rock Solid Custom Granite, we specialize in providing top-quality quartzite counter installation services in Durango and Littleton, CO, and surrounding areas. Our experienced professionals are dedicated to bringing your vision to life, creating a stunning centerpiece for your kitchen that combines beauty and durability. From helping you select the perfect quartzite slab to delivering flawless installation, we ensure a seamless and hassle-free experience. Elevate your home's aesthetic appeal and functionality with our exquisite quartzite countertops. Request a free estimate today and take the first step towards enhancing your kitchen's allure.
What Is Quartzite?
Formed through metamorphism, quartzite offers a remarkable combination of beauty, versatility, durability, design options, and ease of maintenance. Interior design and construction professionals highly favor this elegant material for home remodeling and building projects. While quartzite can resemble marble, it possesses exceptional scratch resistance, making it an ideal choice for various applications. Its unique and luxurious appearance enhances the aesthetic appeal of any living space. Apart from countertops, quartzite is also used for wall coverings, stairs, and commercial and high-traffic hospitality surfaces, thanks to its scratch-resistant nature. With its captivating colors and flowing patterns, quartzite exhibits undeniable beauty.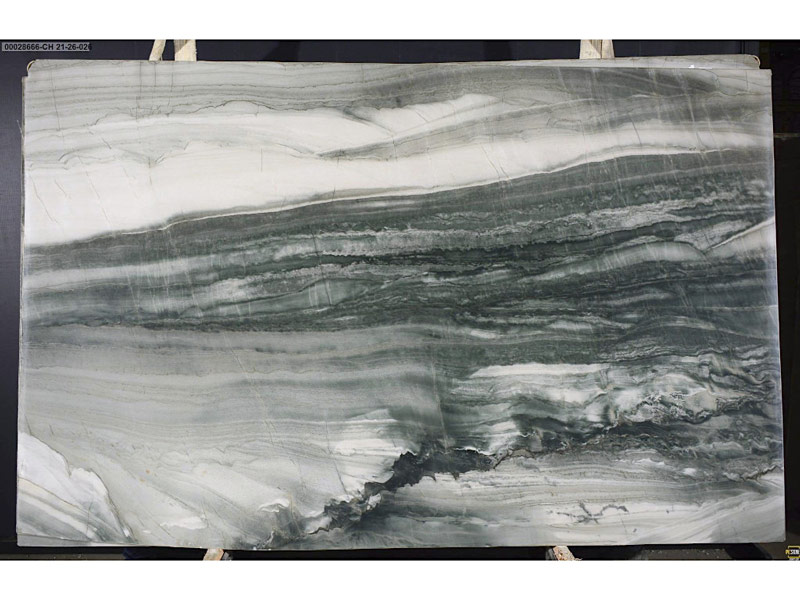 Quartzite Colors
Discover the exquisite range of quartzite countertops that add beauty and durability to your space. Explore a variety of patterns and colors to find the perfect quartzite countertop for your kitchen or outdoor countertops:
Azul Macaubas Quartzite – This stone showcases a captivating blue-gray color that brings a vibrant touch to your kitchen or outdoor cooktops. Its linear pattern features bright blues against a neutral gray base, creating an eye-catching design.
Nacarado Quartzite – With its natural rocky pattern hailing from Brazil, these countertops boast enormous swirls of purple, brown, and gold. Opting for this unique option ensures that no one will question the authenticity of your natural stone slabs.
Dolce Vita Quartzite – For those who adore the elegance of white marble countertops but desire a more resilient surface, the smooth white swirls of this sophisticated pattern offer the perfect solution. Enjoy the beauty of marble with the durability of quartzite.
Crystallo Quartzite – These countertops resemble stunning glaciers, shimmering with flashes of metallic gold and silver. The interplay of light on this pattern creates an enchanting visual effect that beautifully complements light wood and tile surroundings.
Top Benefits of Quartzite Countertops
Quartzite countertops offer a range of benefits that make them a popular choice among homeowners. Some of the top advantages include their exceptional durability, resistance to heat and scratching, wide range of colors and patterns, natural beauty reminiscent of marble, and ease of maintenance. Quartzite countertops are known for their high resistance to stains and ability to withstand daily use demands, making them a long-lasting and reliable option for any kitchen or bathroom.
Contact Rock Solid Custom Granite Today
At Rock Solid Custom Granite, we are passionate about transforming kitchens into captivating spaces with our quartzite countertops. Our commitment to excellence, attention to detail, and superior craftsmanship make us the go-to choice for quartzite counter fabrication and installation services in Durango and Littleton, CO, and beyond. Experience the unmatched combination of elegance, durability, and functionality that quartzite brings to your home. Contact us now to schedule a consultation and let us create a kitchen masterpiece that will leave you in awe. Your dream kitchen is just a phone call away.
Schedule Your Free Estimate Today