Skip to Content
Granite Countertops
Granite is a one-of-a-kind natural stone product that makes a beautiful addition to any kitchen or bathroom. When you purchase granite countertops, you're installing a functional work of art that will increase the value of your home, regardless of whether you plan to stay or sell in the future. At Rock Solid Custom Granite, we offer granite countertop design and fabrication along with the installation of top-quality granite countertops. We seal every granite counter with a 15-year sealer that eliminates the need for maintenance and offers a one-year installation warranty on all workmanship including seams and sink mounting. It's one of the hardest of all natural stone countertop materials and resists staining and scratching.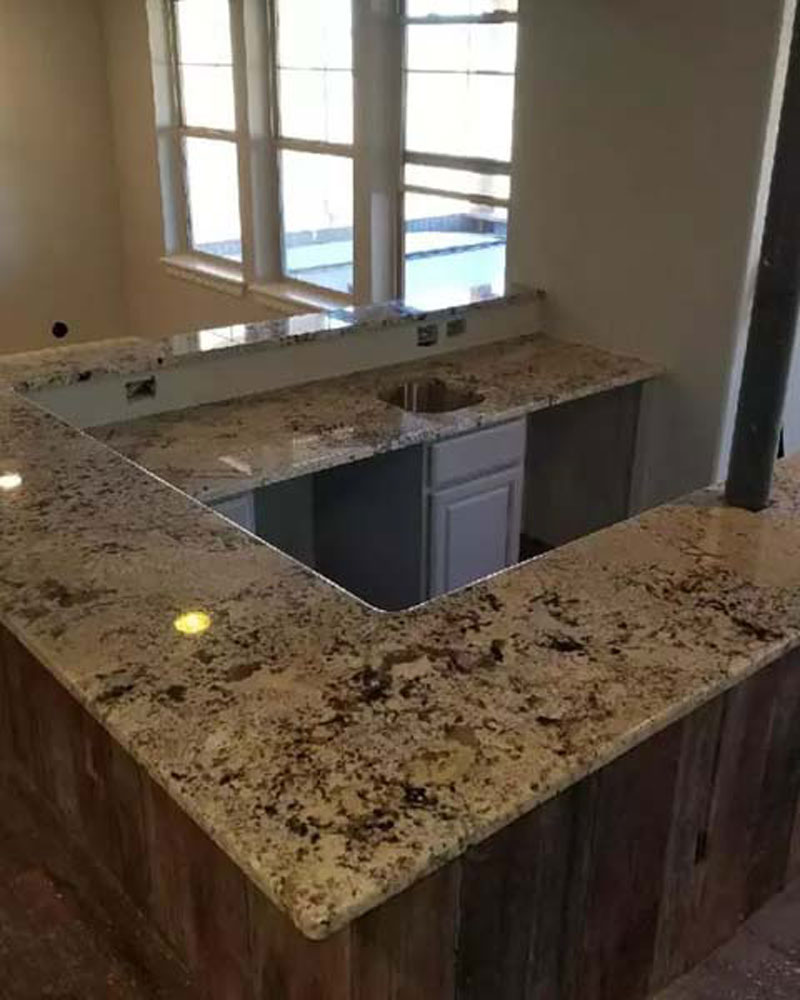 Choosing Your Custom Granite Countertops
Granite is quarried in a range of colors and patterns, each offering a unique look for your home. When selecting granite countertops for your kitchen or bathroom, it's important to consider the color and style of the space to find a granite pattern that completes the look you want.
White granite typically features gray or burgundy veining. It is often paired with light brown, beige, or gray cabinetry for either an elegant or a rustic look. Nickel and oil-rubbed bronze hardware best bring out the warmth and depth of this stone.
Black granite is often found with gray or white veins, but more uniform pieces of granite may be used to create an elegant and high-end look. This versatile granite perfectly complements cabinetry with darker stains, but offsets white and light-colored cabinetry wonderfully as well. Popular hardware options used with black granite include chrome, nickel, and oil-rubbed bronze.
Green granite may feature white, black, brown, or even red and yellow veining, allowing you to pair this stone with a wide variety of color palettes. Softer greens work well in brightly-colored kitchens and bathrooms, while darker greens look beautiful when paired with natural wood or darker cabinets. Bronze, nickel, and copper fixtures and hardware are popular accessories for this type of granite.
Common Questions About Custom Granite Countertops
Granite countertops are a wonderful asset for your home, imbuing it with unparalleled beauty and style. If you'd like more information about granite counters near Littleton or Durango, please call Rock Solid Custom Granite at 720-344-7625 or contact us online for a free estimate.
Will granite chip or crack easily?
Granite countertops are incredibly durable and resistant to damage, including discoloration, scratches, and chips. However, some practices such as cutting directly on your countertop or using the wrong type of cleaning products can put your granite at risk for damage; your granite provider can let you know how to protect your countertops for a lifetime.
Are the veins considered weak points?
Veining is a natural variation in the look of granite that occurs when other minerals or elements are present during the stone's formation. These color and pattern variations are not weak points in the stone, but only a cosmetic effect.
Schedule Your Free Estimate Today