Skip to Content
Add Flair With a Feature Wall
Is your living room missing something? Perhaps you want to add a little extra spice to your space. If either of these applies to you, a feature wall might be the design element you're looking for. These walls add flair to any space that can't be achieved with typical décor. At Rock Solid Custom Granite, we love partnering with homeowners to bring their feature wall visions to life. Contact Us today to learn how our team can elevate your living space.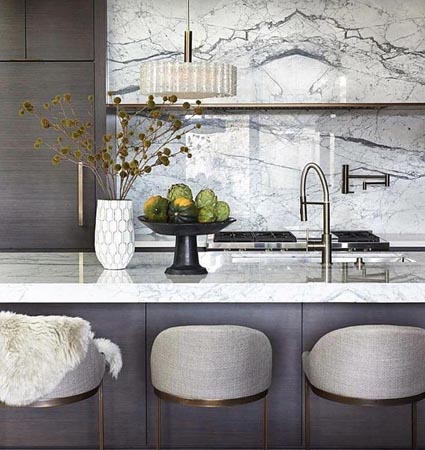 What Is a Feature Wall?
A feature wall, also called an accent wall or statement wall, is a wall that boasts a different color, pattern, or texture than the other walls in the room. Stone feature walls are often incorporated into a space to add natural source of texture and an alluring pop of color, thus creating a unified and cohesive design. Feature walls are common in living and dining rooms, but they can also work in bedrooms, kitchens, and nearly any space you have in mind. Our team can suggest a wide variety of natural stone options or Engineered Quartz materials to create a stunning and unique feature wall for your space.
Evoke These Stunning Styles
Feature walls meld perfectly with a vast range of styles. Whether you're a fan of traditional styles or prefer something less-than-subtle, we can bring you the feature wall that evokes the exact atmosphere you're going for. Feature walls are ideal for the following aesthetics:
Rustic
Modern/contemporary
Tropical
Mid-century modern
Bohemian
Art deco
Shabby chic
Transitional
Taking Care of the Design Process
Designing a feature wall from scratch isn't every homeowner's priority. If you'd like to put up a feature wall but need some help with the design process, Rock Solid Custom Granite would be happy to assist. Our professionals have years of experience with these walls, and we'll work to make your vision a reality. Residents across Colorado can count on our expertise.
Schedule Your Free Estimate Today