Skip to Content
Coordinating Your Countertops And Cabinets
Granite is a natural mineral that comes in a rainbow of colors and patterns. When you are planning a new kitchen design, it is of the utmost importance that you coordinate the color of your countertops to your kitchen cabinets. While some shades of granite may match perfectly with your cabinets, other hues may create a design clash. A company specializing in granite in Littleton can help you make the perfect choice when it comes to your granite countertops. By working with a team of experts, you can rest assured that your countertops will match with the other design elements of your kitchen. Here is a look at some tips for coordinating your granite countertops and cabinets.
This is How to Match Your Granite Counter Tops and Cabinets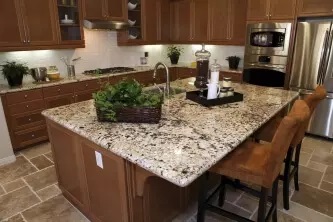 Bring a Cabinet Door to the Granite Showroom
When you are picking out your new granite countertops, it is a great idea to bring one of your cabinet doors to the showroom. By carrying a cabinet door along with you, you will be able to see in person whether your desired granite color matches with the stain on the wood.
Find a Color Balance
To coordinate your countertops and cabinets, it is a great idea to consider balancing colors in your kitchen. For example, if your cabinets are made out of very dark wood, you may want to choose granite counters in a lighter shade. Alternately, light wood cabinets may look best with rich granite shades. By creating a balance between colors, you can prevent your kitchen from seeming too dark or light.
Consider Wall Paint
As you are coordinating your cabinets and granite countertops, it is important to also consider painting your walls. By changing the color of your kitchen walls, you can make your new granite counters really stand out. When you select a new wall color, you may want to choose a shade that is found in your granite, itself.