Skip to Content
Coordinating Your Flooring and Countertops
If you're planning a bathroom or kitchen remodel near Littleton or Highlands Ranch, you have the perfect opportunity to replace your flooring and countertops. New granite, soapstone, or quartz countertops will make your home more comfortable, sophisticated, and attractive. Here is a look at how you can coordinate your flooring and countertops for a unique and cohesive home design.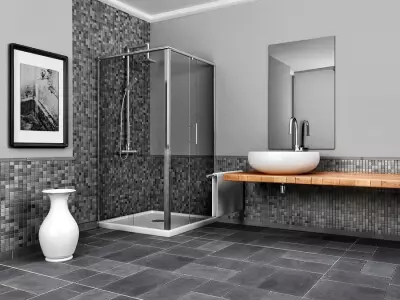 Develop a Color Scheme
Your color scheme should only consist of three colors. Two colors should be dominant colors, while the third color should be an accent color. You can get ideas for color schemes by looking at interior design catalogues or websites, paint chips, or color charts. A color scheme can be three distinct colors, or varying shades of the same color. Once you have developed a color scheme, you can paint your kitchen cabinets, kitchen island, bathroom cabinets, or bathroom vanity with your chosen accent color. Your kitchen or bathroom countertops and flooring should contain the two dominant colors from your color scheme.
Pick Out Your Countertop Materials
You should pick out your bathroom or kitchen countertops before you pick out your flooring. The most popular countertop materials that are in use today are quartz, granite, and soapstone. Quartz countertops are manufactured to look like natural stone, but are much lower maintenance. You can choose from a wide variety of patterns, textures, colors, and styles of quartz countertops. This countertop material is scratch and stain resistant, durable, and incredibly strong. Soapstone and granite countertops are all natural, durable, heat resistant, and available in a range of beautiful, elegant colors and patterns.
Match Your Flooring to Your Countertops
Once you have picked out your countertop materials, you should bring a sample with you when you look at flooring options. Your flooring should match the finish, color, and texture of your countertops. You can match one of the colors in your countertop to a color in your floor tiles or other flooring material. Use your accent color as a complementary or contrasting color against your countertop and flooring colors.