Skip to Content
FAQs About Granite Countertops
If you're thinking about renovating your bathroom or kitchen, you'll first decide how extreme you want the transformation to be. Granite countertops in Littleton can offer a brand-new practical look for either space with a single change. You'll have several color options to choose from, enjoy functional and cosmetic benefits, and even a more valuable home. Keep reading for the answers to common questions about granite countertops.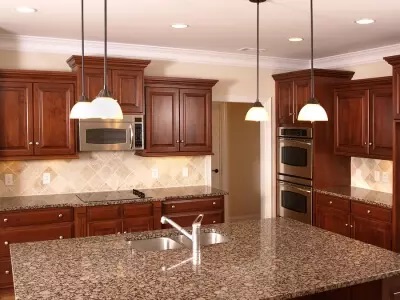 What Are the Color Options?
When you look at your granite countertop options, you'll come across white, black, and green. All of these options can be appealing, but the effect they provide on your space will depend on how you use them. White granite pairs nicely with gray or beige cabinets, especially when you add bronze hardware to the mix. Black granite, on the other hand, is a little more versatile and can be used among darker and lighter colors. Whether you have dark or light cabinets, black granite should be able to fit in. Green granite is also versatile thanks to the different colors you might find in its veins. The hue might range as well, as you can find lighter or darker types of green granite countertops.
Why Go With a Granite Countertop?
There are plenty of reasons to love granite countertops. First, you can expect your investment to keep paying off for years to come. They are great at resisting scratches, chips, and other forms of damage, as well as discoloration. Granite countertops also naturally have veins, adding a unique aesthetic to your kitchen or bathroom design. Since there are already color variations to choose from, you can find the perfect granite countertop for your household.
Will Granite Countertops Increase My Home's Value?
A new granite countertop can change the way your space looks, and bathrooms and kitchens are heavily utilized areas. If you want to make your home more valuable by redoing either of these rooms, you might want to add a granite countertop to your list of ideas. These countertops are extremely durable, so they should still be in shape if you eventually decide to sell your house.