Skip to Content
Highlighting The Benefits Of Quartz For Your Kitchen
If you're thinking about investing in a partial or complete kitchen remodel in Littleton, new countertops are likely to be at the top of your list. However, while you may already be thinking about new kitchen countertops, are you thinking about quartz countertops? If not, you should be. Boasting the best qualities of laminate and stone, engineered quartz countertops are an affordable and attractive alternative to natural stone countertops that might be out of your price range. Even if you can afford granite or marble countertops, you might still be interested in going the other route once you consider the benefits of quartz. The most notable benefits include: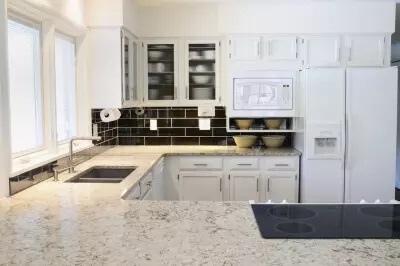 Stain and Scratch Resistant
Quartz counters are manufactured by combining 93% natural quartz stone with 7% resin binder, the result of which is an extremely hard stone that is stronger than granite or marble. Because quartz is non-porous, it is naturally stain resistant and never requires sealing. The design and manufacturing process also creates a product that is highly scratch resistant, which means you don't have to worry about damaging your new kitchen countertops anytime soon.
Minimal Maintenance Requirements
As mentioned previously, engineered quartz countertops never need to be sealed. Compared to granite and marble counters that must be sealed regularly to prevent staining and bacteria growth, quartz countertops will save you time and money that otherwise would have been spent on sealing. With quartz, you only need to wipe down your countertops with a damp cloth or paper towel and the occasional small amount of quartz-safe cleanser to keep your countertops looking great.