Skip to Content
Modern Design Ideas For Your Bathroom Remodel
When you are preparing for a bathroom remodel, it is important to create a space that is both stylish and functional. From new countertops to updated bathroom vanities, you will have many features to select during your remodeling process. To get started on your home improvement project, it is a terrific idea to look to the latest bathroom ideas for inspiration. A company offering bathroom vanities in Littleton will be able to provide you with all of the materials and installation services you need to achieve the bathroom of your dreams. Read on for some terrific modern design ideas for your bathroom remodel project.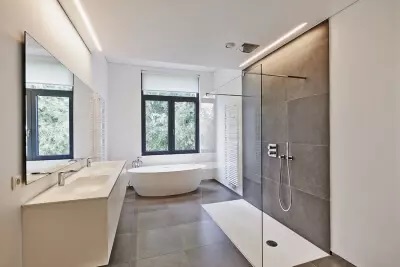 Bold Floor Tiles
Today's bathrooms feature bold floor tiles that are sure to make a statement. When you are creating a new bathroom design for your home, you may want to include flooring that is in rich shades of blue, green or turquoise. With an eye catching flooring design, you will be able to provide your bathroom space with a stunning new look.
Natural Materials
Eco chic is a top trend in the latest bathroom designs. If you are looking for a great way to go green with your bathroom remodel, you may want to include natural materials in your bathroom space. For example, natural wood can be used in vanities and along countertops to provide a bathroom space with a warm and natural feel. Other natural bathroom materials include stone, granite, and other products that are derived directly from the earth.
Bathroom Suites
As you are planning a new bathroom design for your home, you may want to consider updating your bathroom floor plan so that it connects to your master bedroom. A bathroom suite can serve as a calming oasis from your everyday life. With a new bathroom suite, you will be able to admire your luxurious new countertops and bathroom vanity from the comfort of your very own master bedroom.