Skip to Content
Reasons Why Quartz Countertops Belong in Your Busy Kitchen
When you are shopping for new countertops that can meet the demands of your busy lifestyle, you may want to consider purchasing quartz counters. Quartz countertops are incredibly durable, and will not get stained or scratched over the years. With services from a company that sells quartz countertops near Littleton, you will be able to create durable quartz counters that will add beauty and convenience to your kitchen space. Read on to learn more about why quartz countertops are a terrific addition to your busy kitchen space.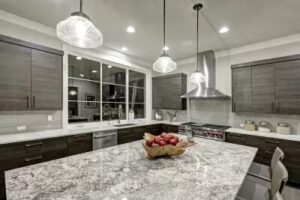 Stain and Scratch Resistance
Quartz is one of the hardest countertop materials that are available on the market today. When you choose to invest in new quartz counters, you can feel great knowing that your new countertops are completely resistant to stains and scratches. In fact, quartz is durable enough to accommodate hot pans right on its surface. By choosing resilient quartz countertops for your busy kitchen space, you will not need to constantly fret about whether your countertops are being ruined.
Bacteria Prevention
During your hectic weekly routine, chances are that food messes may get spilled on the surface of your quartz counters. Rather than soaking up spills and stains, quartz counters are able to resist becoming contaminated by food waste. You can feel great knowing that your nonporous countertop surfaces provide bacteria prevention for you and your loved ones. Over the years, your quartz countertops will not develop bacterial contamination or other problems that could be hazardous to your health.
Fantastic Style
Along with being incredibly durable and safe for your family to use, quartz countertops will also provide your kitchen with style and flair. These functional and fashionable countertops will help to bring your kitchen space to life. As you are shopping for your new quartz countertops, you will have the option of selecting counters that have been styled in soft neutral or boldly colorful shades. After you have found a surface that matches the design scheme of your kitchen, you will be ready to start the installation process.