Skip to Content
The Benefits Of Quartz Countertops
Although granite remains a popular high-end material, many homeowners choose to install quartz countertops in Littleton when they remodel their kitchens and bathrooms. Quartz countertops offer many of the same advantages as granite, but at a slightly lower price point. This material is perfect for homeowners who are on a fixed remodeling budget but still want beautiful, durable materials for their kitchen islands and countertops. Some of the benefits of selecting quartz include: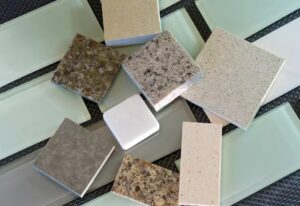 Easy Cleaning and Care
Though granite is durable, it does require maintenance and care. Granite must be sealed to prevent it from staining, and the sealant needs to be reapplied once every one to three years. Quartz, however, does not need to be sealed. You should still take care not to spill red wine or other potentially staining liquids on it, but you can wipe it clean with soap and water quite easily. Most high-end quartz kitchen countertops are also heat-resistant, like granite, so you can briefly set hot dishes on them without damaging them.
A Wide Range of Color Choices
Many quartz countertops are composite materials, meaning that natural stone materials are pressed into a countertop using man-made methods. This allows manufacturers can create a wide range of colors that aren't always available (or are very expensive) in quarry-mined stones such as granite and marble. If you want a green or gold countertop to match the rest of your kitchen or bathroom, quartz is your best bet.
Simple Installation
Unlike granite, which has natural patterns of veins and striations that are difficult to match up, quartz countertops can be cut in several different pieces that, when joined, will look almost seamless. Once-piece granite or marble countertops, especially larger pieces for double bathroom sinks or kitchen islands, can be cumbersome to maneuver into place. By constructing your counters out of two pieces of matching quartz, you can help your contractors avoid the logistical difficulties of transporting and installing a large stone slab, which will in turn keep the costs of your remodeling project down.