Skip to Content
The Steps of Creating a Granite Countertop
Investing in stone countertops is a simple way to increase the value of your home and add elegance to your kitchen or bath. If you're interested in getting new granite countertops near Parker, you may have questions about how they're made. Here, you'll find an outline of the major steps involved in the creation process.
Cost Estimation
If you're planning on getting new granite countertops for your home, the first step in the installation process is project design. Examine your kitchen or bath, and then create a simple sketch that depicts the project you have in mind, plus the measurements for the different counter sections. Show your design to your contracting company to get an estimate for the entire project.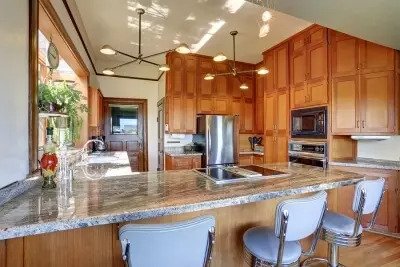 Material Selection
After receiving an estimate that you're satisfied with and you've found a company you want to work with, the next step is to choose a material. Granite counters are made from natural stone, and each slab is different. You'll select a piece of granite from which your countertops will be fabricated.
Template Design
Next, your installation team will create precise templates for your project design. This process typically takes a couple of hours during which the team will need access to your current countertops. Feel free to ask any questions that you have about the installation process at this time.
Counter Fabrication
At this point, it's time to make your counters. Using the custom made templates, your contractors will transport the slab of stone that you selected to their shop where they will cut your unique granite countertops.
Counter Installation
To cause as little disruption to your household as possible, your old counters will be torn out on the same day as your new counter installation. To prepare for this step, clear your counter surfaces and the areas beneath sinks of any objects, and ensure that the installation team has a clear path to the project area. They will then install your new countertops and apply a 15-year surface to help preserve their quality. Finally, your contractor will review the project and answer any of your questions.