Skip to Content
What to Look For in Your New Cabinets
Your kitchen remodel project near Parker will likely include new cabinets and drawers. These are important to the entire look and function of your new space, so it is important to find the right cabinet design. To determine the best cabinet design for your kitchen remodel, consider the hardwood specie, the functionality of the cabinets, and the type of hardware they need. Here is a better look at how these three elements will influence your choice of cabinets.
Here's What to Look For in New Cabinets
Hardwood Specie
There are numerous hardwood species to choose from for your new cabinets. Picking one of these species will depend on the color and grain patterns you want in your kitchen. Oak, maple, and cherry are common woods for cabinets. However, you may prefer darker, more exotic woods, such as mahogany and bamboo. Each hardwood specie has a unique grain pattern and range of colors. You can also choose to stain your cabinets a specific color to match your kitchen design and countertops.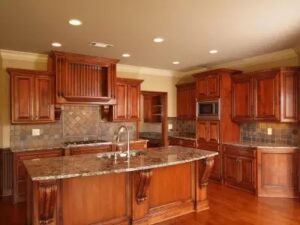 Included Function
Cabinets can be customized in several different ways to accommodate how your family uses the kitchen and bathrooms. Determine what you need from your cabinets. Cabinets are important for storage, and you can maximize your new cabinets' storage options with various customizations. Look for cabinets that can be customized with pullout drawers, additional storage, and personalized additions. If you wish for further functional customizations, then consult with your cabinet designer and installer on more ways to take advantage of your new cabinets.
Attractive Hardware
You have determined the hardwood specie, color, and function of your new cabinets, but you also need to find the right hardware. Cabinets may come with handles, hinges, knobs, latches, and drawer slides. These different types of hardware may seem small, but they will have a significant impact on the appearance of your cabinets. Consider the type of metal, color, and finish you want on your hardware. It should match or complement the finished cabinet. The most common hardware finishes are bronze, black, antique, and chrome.