Skip to Content
Answering Questions About Our Custom Cabinet Services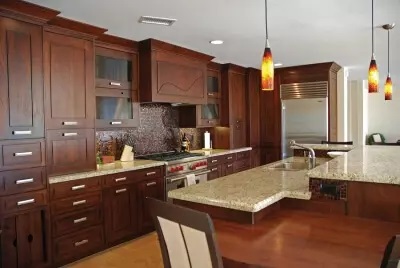 For years, Rock Solid Custom Granite has been the go-to destination for beautiful countertops in Littleton. We're also pleased to offer our premier selection of cabinets, including Merit, Legacy, and Lectus Cabinets, and our custom cabinetry is second to none. Our professionals are committed to your complete satisfaction. When you visit our showroom, you'll meet with a courteous home remodel expert to discuss your project.
Learn More About Our Custom Cabinet Services
Do You Only Design Custom Kitchen Cabinets?
When families decide to remodel, they often prefer to invest the most into their kitchens. We pride ourselves on matching our kitchen cabinets to each customer's unique design preferences and current aesthetic scheme. In addition to our custom kitchen cabinets, Rock Solid Custom Granite is a leading provider of custom bathroom cabinets, closet cabinets, and custom media centers.
Why Should I Consider Custom Bathroom Cabinets?
Kitchens and bathrooms are often among the most disorganized rooms in a typical home. There are lots of little items, like cosmetics and hair ties, which can easily spill out of their assigned location. Larger items, like hairdryers, can be oddly-shaped and sized, and difficult to keep neatly organized. When you choose Rock Solid Custom Granite to build your unique bathroom cabinets, you can determine the exact dimensions of your storage spaces to fit your busy lifestyle.
Which Features Can I Add to My Custom Media Center?
The cables, media players, DVDs, and Blu-ray discs can end up in a jumbled mess in a media center, which defeats the purpose of using this piece of furniture to organize your entertainment options. With a custom media center, you can choose virtually any storage configuration you need to corral loose cables and organize your collections.
I'm Having Trouble Choosing a Cabinet Color. Can You Help?
Our design professionals look forward to showing you the color options available to you. We'll consider the overall design scheme of your home and how your custom cabinets will fit into it. If you plan to upgrade other features in your home, such as your countertops, we recommend selecting all of these elements together, as you'll be able to clearly assess the compatibility of the various design styles.