Skip to Content
Answers to Your Questions About Cambria Countertops
Cambria is one of the leading manufacturers of quartz countertops in Littleton, Highlands Ranch, and Parker. Cambria countertops are natural, attractive, and exceptionally strong additions to bathrooms and kitchens. Understanding the benefits and the manufacturing process are helpful to understand why these countertops are great for any home. Let's take a closer look at some questions and answers about Cambria countertops.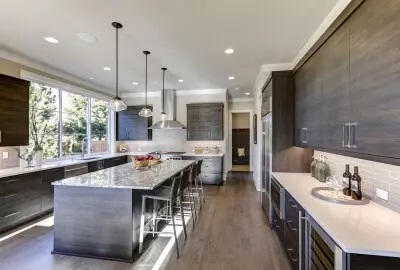 What Materials Make up Cambria Countertops?
Cambria countertops are made almost entirely of ground, natural quartz. Quartz is an exceptionally hard mineral, and it is one of the most abundant minerals found on the planet. These attributes make quartz countertops the eco-friendly choice when choosing a countertop material. In addition to natural quartz, Cambria countertops have added pigments for color choices and a sturdy resin that binds the quartz and pigments together.
What Are the Benefits of Cambria Countertops?
Quartz countertops by Cambria are nonporous, durable, and beautiful additions to any home. Quartz countertops will resist staining or etching due to their nonporous quality. They can also handle high and low temperatures, so they will not crack or damage. They are stronger than granite countertops, and they do not require sealing or polishing throughout their lifetime. Cambria quartz countertops will remain a durable, strong, and beautiful countertop addition for decades to come. Cambria also offers a lifetime limited warranty for its countertops.
What Are the Different Styles of Cambria Countertops?
There are well over 100 designs available in Cambria countertops. These designs can make any countertop surface look like a slab of all-natural stone. Cambria countertops are also available in countless color options to match any color scheme or home décor. This is due to the pigments added in to the ground quartz. The pigments and designs will go through the entire slab of quartz to create a full and cohesive countertop appearance. It is important to work with a qualified Cambria retailer to determine the best color and design choices for each countertop installation.