Skip to Content
New bathroom countertops can transform an ordinary bathroom space into a beautiful sanctuary. When you decide to remodel your bathroom, you will have the opportunity to pick out quality new bathroom countertops for your space. A countertop supply company that offers granite bathroom counters in Highlands Ranch will be able to work closely with you to help you decide on the right materials and colors for your installation. By touring some countertop options, you will get a better feel for which materials will be suited to your space. Let's take an in-depth look at what every homeowner needs to know about bathroom countertops.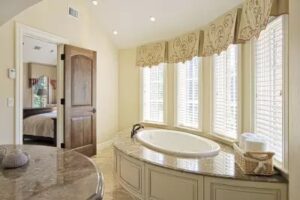 Granite Countertops
Granite is a very popular option for today's bathroom countertop designs. When you choose granite countertops, you will be able to select durable materials in an array of gorgeous colors. One of the benefits of granite is that this material can be sealed against the damaging effects of water or spills. Granite countertops are also crafted from natural stone materials, so they will add a sense of elegance to your bathroom space.
Marble Countertops
If you are seeking extremely fashionable and luxurious countertops for your bathroom, you may want to consider purchasing marble countertops. Marble, like granite, is a material that is taken directly from natural stone quarries. White marble is sure to boost the overall look and feel of your bathroom design. However, it is important to note that marble can be easily stained by water and other common substances that are found in the bathroom.
Quartz Countertops
A final material to consider for your bathroom countertop installation is quartz. Unlike marble or granite, quartz is a solid surface material that is crafted by experienced technicians. With its man-made properties, quartz is more durable and resistant to stains than any natural stone material. With new quartz counters, you will enjoy the beauty of natural stone with none of the hassles. Once you have picked out the perfect material for your bathroom, you will be ready to begin the process of countertop installation.