Skip to Content
What to Consider When Choosing a Color Scheme for Your Bathroom
In order to achieve the best results from your bathroom renovation, you will want to take the time to carefully pick out your color scheme. The perfect bathroom will have granite countertops, cabinets, and fixtures that remain within a similar color palette. With assistance from a company that sells granite countertops near Littleton, you will be able to determine whether colorful countertops or neutral white granite countertops are the best fit for your bathroom space. Here is a closer look at some factors that you will want to consider when you are choosing a color scheme for your bathroom.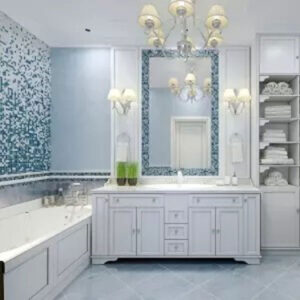 Think About Your Desired Mood
When you are choosing a color scheme for your bathroom, you will want to carefully think about how different colors will affect the overall mood of your space. If you want your bathroom to be energizing, you may want to select warm tones, such as tan, yellow, or gold. Cool shades, such as greens and blues, will create a relaxing bathroom atmosphere.
Compare Colors With Neutrals
As you are selecting the color pallet for your bathroom space, it may be a good idea for you to weigh the pros and cons of bright colors and neutral hues. A white bathroom, for example, will never go out of style. Some very bright and bold colors that are trendy today may start to look dated after a few years have passed. A bathroom designer can assist you with the color selection process.
Match Paint Colors to Countertops
Your new granite countertops will contain many different beautiful colors within their grain pattern. To make your counters really pop in your bathroom space, it is a great idea to paint your walls in a shade that can be found within your granite slabs. Making your granite countertops into an accent color for your walls will help to tie together the color scheme of your entire bathroom. Once you have picked out your countertops and wall paint, you will be able to easily select matching cabinets.