Skip to Content
Granite vs. Marble Countertops
Marble and granite are the most popular options when it comes to natural stone countertops in Denver. While they share common characteristics, there are some key differences. Read on to learn how granite and marble compare based on beauty, durability and function.
The Basics
Natural stone is a beautiful choice for updating your bathroom or kitchen countertops. It lends breathtaking beauty to a room, can be customized to nearly any size and shape, and comes in a wide array of colors. It also blends well with any style of home decor, making it a versatile option for modern home design.
When it comes to choosing natural stone, granite and marble are the top choices. Marble is typically prized by people who prefer an elegant look, while granite is popular among homeowners who want a more natural appearance. That said, both are versatile enough to fit virtually any design scheme. They also have unique benefits and drawbacks that make them more or less appealing to certain homeowners.
Marble at a Glance
The Pros
Elegant veining patterns
Heat-resistant
Lots of styles and colors
The Drawbacks
Less durable
More expensive
Susceptible to scratching and stains
Demands more maintenance
Granite at a Glance
The Pros
Lots of styles and colors
Less expensive
Less maintenance
Very durable
Heat-resistant
The Drawbacks
Potential to stain
Composition can vary in different slabs
Susceptible to scratching
Appearance
As with any countertop material, the aesthetic variations between marble and granite are a matter of taste. Many people prefer granite's natural look, which comes in a diverse array of patterns and colors. Granite countertops often include veins or flecks or veins in hues like pink, black, gold, green or red.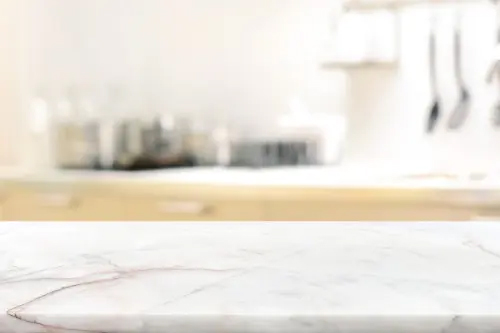 On the other hand, lots of homeowners prefer the veining and elegance of marble, which is easily distinguished and most commonly available in white or black. With noticeable veins running throughout the surface, marble countertops generally have a more consistent pattern compared to granite.
Durability
Granite and marble countertops need to be sealed to preserve their long-term durability. Often cited as the world's most durable natural countertop material, granite is highly resistant to chipping and cracking. With sealed granite, you can usually place hot pans on the counter, cut on the counter, and wipe away spills without any problems.
Similar to granite, marble countertops are highly resistant to damage. Unlike granite, however, marble will stain, especially when exposed to acidic liquids such as lemon juice and vinegar which can etch the surface.
Despite their impressive durability, both surfaces need to be sealed annually. Likewise, while marble and granite are both resistant to heat, you should always err on the side of caution. For example, it's generally best to avoid setting red-hot pans directly on either surface.
Cost
While it isn't the cheapest countertop option, the endurance and aesthetic of stone make it well worth the cost. Starting at approximately $75 per square foot installed and $100 or more for higher-end stone, granite is less expensive than marble. Installed marble countertops can range from $100 per square foot to over $200, depending on your needs and the supplier. Bear in mind, however, that prices fluctuate based on many shifting circumstances.
Installation
When it comes to installation, both granite and marble countertops require a similar process. It begins with a template which is transferred to a slab that's cut to fit and carefully finished. The slab is then set into place directly onto the plywood substrate or cabinets and secured with a quality silicone adhesive. Holes for faucets and sinks are then cut, and a few finishing touches are made to ensure optimal function and aesthetic.
Whether you choose granite or marble, the stone slabs are difficult to handle. That's why installation should always be performed by a seasoned Denver granite countertop professional with years of experience working with every type of natural stone. A professional can also give you input so you can make an intelligent decision about whether granite or marble is right for your home, lifestyle and specific design scheme.
Searching for countertop options for your bath, kitchen or laundry room? You can find the widest selection of stunning natural stone countertops at Rock Solid Custom Granite. Our team has gained a hard-won reputation for being the finest, most reputable granite counters company in the Denver metro area. Employee-owned and operated, we never outsource important jobs to subcontractors. When homeowners work with us, they can expect breathtaking natural stone countertops that look incredible and stand the test of time.