Skip to Content
Guide to Buying Granite Countertops in Denver
Granite is the most popular natural countertop surface for bathrooms and kitchens for homeowners throughout Colorado. And the reasons are clear—the material is easy to maintain, very durable, and absolutely beautiful. It's also a relatively easy upgrade and adds considerable property value. Here's your complete guide to choosing granite countertops in Denver.
What is Granite?
Granite is a sturdy, natural stone that's more durable than marble. Available in a diverse range of colors, it also comes in a wide array of edge treatments. Compared to marble countertops, granite offers a more uniform pattern. It's also more affordable and stronger in the short- and long term.
What Makes Granite Countertops in Denver so Popular?
Granite's superior durability makes it a very good choice for kitchen counters, which have to endure significant daily stress. And because granite comes in a lot of colors, the material appeals to most homeowners.
Granite is the most sought-after countertop material in the United States. The color choices of absolute black and black pearl are widely used in kitchens and bathrooms, on floors, and on wall counters.
Choosing a Color
When choosing the color of granite counters, you should look for something you can live with for several years. With good care, granite can last for several decades. With this in mind, it's important to pick a color that will work harmoniously with one or two kitchens remodels. If you plan to sell your home at some point in the near future, focus on neutral colors to attract more buyers.
Granite countertops will generally cost between $45 and $200 a square foot. You may be able to save money by avoiding rare colors which are more expensive. You can also choose to mix your granite colors in your kitchen, using the pricier hue as a focal point.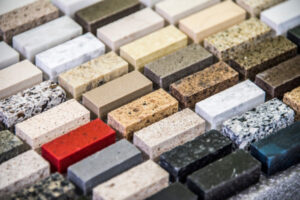 Consider Thickness
When choosing granite countertops, thickness helps determine color, durability, and price. In general, you will have to choose between 3/4-inch and 1 1/4-inch thickness. Thinner granite requires installers to add plywood beneath the counter to raise it to an appropriate height. In some instances, this plywood can warp, requiring pricey repairs. The edges can also look less finished, and installation costs can be high.
When possible, it's best to purchase thicker granite counters.
Watch for Fissures and Pits
While natural pits and hairline cracks can add to the natural beauty of granite, they can increase the risk of fractures in certain instances. This is especially true if the granite is less than 1 inch. Ask your stone fabricator or installer to explain how any obvious imperfections might affect the stone and whether they could cause harm over time.
Consider Seamless Granite
If possible, choose seamless granite countertops. While they may be more expensive, they will almost always look better. Seams tend to start looking worse and worse over time. While your countertop may look great when it's freshly installed; in five or ten years, the seams may stick out like a sore thumb.
Installation Requirements
Cabinets usually have to be installed first, so the granite countertops can be templated pre-installation. Once an accurate template is made, the granite slab is cut to fit and preferably installed by a professional to make sure it's level. After installation, the granite countertop will need to be sealed to protect it from stains and microbes.
Choose the Right Denver Granite Countertops Provider
When choosing granite countertops, it's very important to work with a reputable, experienced local installer. But before you settle on any one contractor, you should ask yourself a few important questions.
Do they have relationships with the biggest granite suppliers? Will they work alongside you to bring your boldest vision into the real world? Can they guide you through the process and help you discover and select the right materials and countertop design for your unique style and décor? Are they able to provide flawless cutting, perfect measurements, seamless installation, and spectacular finishing?
If you choose Rock Solid Custom Granite, the answers to all of these questions will be: yes.
The attentive experts at Rock Solid Custom Granite can help guide you to the ideal natural stone countertop for your kitchen or bathroom. Serving Denver and homes in the surrounding area, our team provides beautiful natural stone countertops and custom cabinetry. When homeowners work with our skilled experts, they can expect the absolute finest workmanship and highest-quality materials, guaranteed. Contact us to learn more and for a free estimate on your next granite countertop project in Denver.