Skip to Content
8 Reasons to Avoid Prefabricated Granite Countertops
When choosing granite countertops, modern homeowners have two options: prefabricated granite countertops or custom granite countertops. While both options have their benefits, prefab countertops have some serious drawbacks you should be aware of.
What Are Prefab Granite Countertops?
As the name suggests, prefabricated granite countertops are natural stone countertops made with a one-size-fits-all approach. These countertops are made from granite slabs that are cut to size, polished and then sealed long before being shipped to the home. Installation is supposed to be easier and cheaper than traditional granite countertops. Unfortunately, the reality isn't as attractive as the marketing might suggest.
What Are the Drawbacks?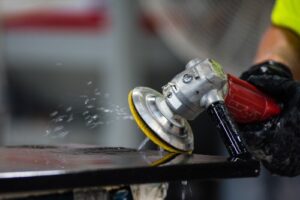 While they may sound like a good idea at first glance, prefab granite countertops come with some significant drawbacks, including:
1. Limited selection – When you decide to purchase prefabricated granite countertops, you are limited to the available selection. You won't have as many color or style options, and it could make it harder to find something to match your existing décor.
2. Poor quality – It's not uncommon for prefab granite countertops to be made from lower-quality materials. This makes them more likely to crack, chip, or stain.
3. Difficult to install – Precut granite countertops are not always easy to install, especially if you don't have experience. This can lead to poor installation and noticeable gaps between cabinetry and an unlevel countertop.
4. Requires sealant – Prefabricated granite countertops require an extra sealant to protect them from stains. This sealant also needs to be reapplied regularly.
5. Can be expensive – Prefab granite countertops can be costly, especially if you choose a higher-quality option. Unfortunately, this cost can add up over time, especially if you need to replace the countertops sooner than expected, which is less likely with custom-installed granite.
6. Requires special care – Prefab granite countertops require special care to keep them looking their best. This includes regular cleaning and sealing, as well as avoiding certain products and activities that can damage the countertop. In general, custom countertops require less upkeep when cut and installed by experienced providers.
7. Can be difficult to repair – If your prefab granite countertop is damaged, it can be difficult to repair. This is because the pre-cut countertop is made from multiple pieces that need to fit together perfectly.
8. Not eco-friendly – Since they are typically shipped from overseas, prefab granite countertops are not eco-friendly. This results in a large carbon footprint, which is bad for the environment.
Customized Granite Countertops
Custom granite countertops are made to order according to the specific dimensions of a homeowner's kitchen. This means they will fit perfectly in your kitchen, no matter what size, shape, or dimensions. Custom granite countertops can also be made in nearly any color or pattern you desire.
Prefabricated granite countertops, on the other hand, are mass-produced in factories and then shipped to stores. Because they are not made to order, prefab granite countertops are usually less expensive than custom granite countertops. However, prefabricated granite countertops may not fit perfectly in every kitchen and they are not available in as many colors and patterns as custom granite countertops.
When it comes to choosing between custom granite countertops and prefabricated granite countertops in Denver, the best option for each homeowner will ultimately depend on their budget and their kitchen's specific needs. For those who want the perfect fit and the most color and pattern options, custom granite countertops are the way to go.
Over time, homeowners often end up spending more money maintaining and servicing their prefab countertops. While custom granite countertops come with higher upfront costs, they can last a lifetime. They will also increase the value of your home if you ever decide to sell.
If you are considering granite countertops for your home, be sure to work with a reputable contractor that can help you select the right granite for your home and budget. The right professional will also properly install your countertops to make sure they look great and function properly.
The attentive experts at Rock Solid Custom Granite can help guide you to the ideal natural stone countertop for your kitchen or bathroom. Serving Denver and homes in the surrounding area, our team provides beautiful natural stone countertops and custom cabinetry. When homeowners work with our skilled experts, they can expect the absolute finest workmanship and highest-quality materials, guaranteed. Contact us to learn more and to get a free estimate on your next Denver countertop project.