Skip to Content
How to Match Your Cabinets and Your Countertops
When you undergo a kitchen remodel, you have the perfect opportunity to upgrade your kitchen island countertops, kitchen cabinets, and kitchen countertops near Littleton. Complementary kitchen countertops and cabinets will enhance your kitchen design, improve the comfort and function of your kitchen, and increase your home's resale value. Here are some tips for matching your kitchen countertops and cabinets.
Here's How to Match Kitchen Cabinets and Countertops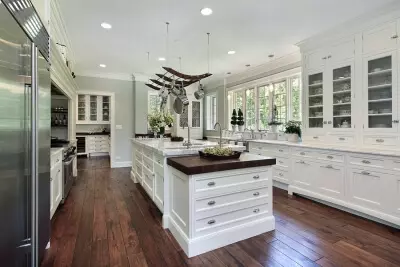 Granite countertops are available in a variety of color palettes, textures, and designs. For a kitchen remodel, the best colors for your new granite countertops are black, gray, or white. Granite countertops are one of the most versatile kitchen countertop choices, as their flecked design gives you a richer color palette for your kitchen design. You can match the paint for your kitchen cabinets and kitchen island woodwork to one of the colors in the granite's design. You can even paint your kitchen cabinets in a two-toned color scheme to match the predominant color and secondary color in your new kitchen countertops.
Because quartz is manufactured and man-made, you have an almost limitless selection of colors and patterns for your new quartz countertops. You can investigate kitchen ideas that complement the existing color scheme of your kitchen cabinets, or you can replace your kitchen countertops and repaint your cabinets. Quartz countertops can even be manufactured to mimic the pattern and style of other natural stones, such as marble and granite. The color and pattern that you choose for your quartz countertops should match the style and aesthetic of your overall kitchen design.
Soapstone Countertops and Kitchen Cabinets
Soapstone is another natural stone material that can be used to create durable, beautiful kitchen countertops and kitchen island countertops. Soapstone is available in a range of shades from black to pale gray. Some slabs of soapstone have blue or gray undertones, and the slabs have veins and flecks of complementary shades throughout. The best colors for your kitchen cabinets and kitchen island to enhance your kitchen design are pale gray, crisp white, and black.