Skip to Content
Your Guide to Quartz Countertops
When homeowners are looking for a durable and versatile countertop choice, they will most likely come across quartz countertops near Littleton, Highlands Ranch, and Parker. Quartz countertops are a manmade countertop material made from over 90% quartz. The quartz mineral undergoes different processes and combines with a dyable resin to eventually become a beautiful, stone countertop. Continue reading for a brief guide to custom-made quartz countertops.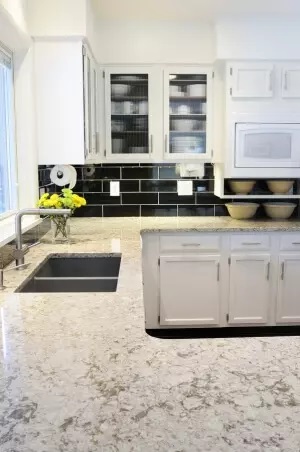 A Durable Choice
Quartz is one of the hardest, and most prevalent, minerals found on earth. Combined with a manmade polyester resin for binding purposes, custom made quartz countertops are considered one of the most durable countertop choices available. They can last for several decades with low maintenance and minimal issues. Quartz countertops will resist chipping or degrading due to the presence of extreme hot or cold temperatures.
A Stain-Free Choice
Most stone countertops will stain because they are porous by nature. If not properly sealed throughout their lifetimes, stone countertops—like granite, marble, and concrete—will irreparably stain. Quartz countertops, however, are made from non-porous quartz and stain-resistant resin binders. Not only will quartz counters resist staining better than other stones, bacteria, and mold cannot penetrate the surface of a quartz countertop. These qualities make quartz the perfect choice for kitchen countertops due to the potential for food and drink stains.
A Versatile Choice
Many homeowners prefer the versatility of quartz countertops. Other stone countertops come in a limited number of colors, and they often have natural defects that cannot be removed. Quartz countertops, however, can be dyed in any color imaginable, and they can be made with or without the veining defects often found in natural stone countertops. This versatility in color is very important to homeowners who wish for more design choices in their kitchens and bathrooms. Quartz countertops can be made to match any color scheme a homeowner may use, including purple, orange, yellow, and any other variation of colors that a homeowner may need.