Skip to Content
How to Polish Granite Countertops: Complete Guide
Read on as Rock Solid Custom Granite reveals the methods you can use to restore and maintain that shine!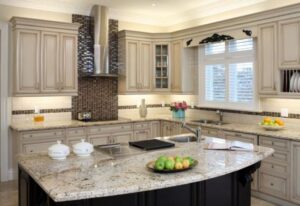 Polishing granite countertops is a maintenance practice that can help to keep your kitchen or bathroom looking pristine, and it will actually extend the longevity of the stone. Using the right techniques and materials can make a world of difference in maintaining the luster and aesthetic appeal of your countertops.
Can You Polish Your Granite Yourself?
Although homeowners may attempt to use a DIY method of polishing their countertops, the stone professionals at Rock Solid Custom Granite have a network of stone restoration experts with the tools, expertise, and experience to perfectly polish your countertops. While you can try do it yourself, it's important to note that you need to be very careful to avoid damaging the granite.
For any questions about granite and how to care for it, check with the experts here at Rock Solid Custom Granite. We are your go-to source for top quality granite stone countertops in the Denver Metro and Four Corners areas, with locations in Littleton and Durango. We take pride in offering exceptional goods and services tailored to your budget and your individual needs. Our end-to-end services include in-house stone fabrication and installation, ensuring a seamless and simplified remodeling experience. From the moment you choose your stone to the final installation, we're with you every step of the way. You're even invited to schedule a time to visit our shop to monitor your project's progress.
To learn more about our company and our products, or to schedule a consultation, contact us via our website or give us a call. In Littleton (Denver Metro) dial 720-800-4403, and in Durango (Four Corners) dial 970-459-5982.