Skip to Content
Top 6 Trending Countertops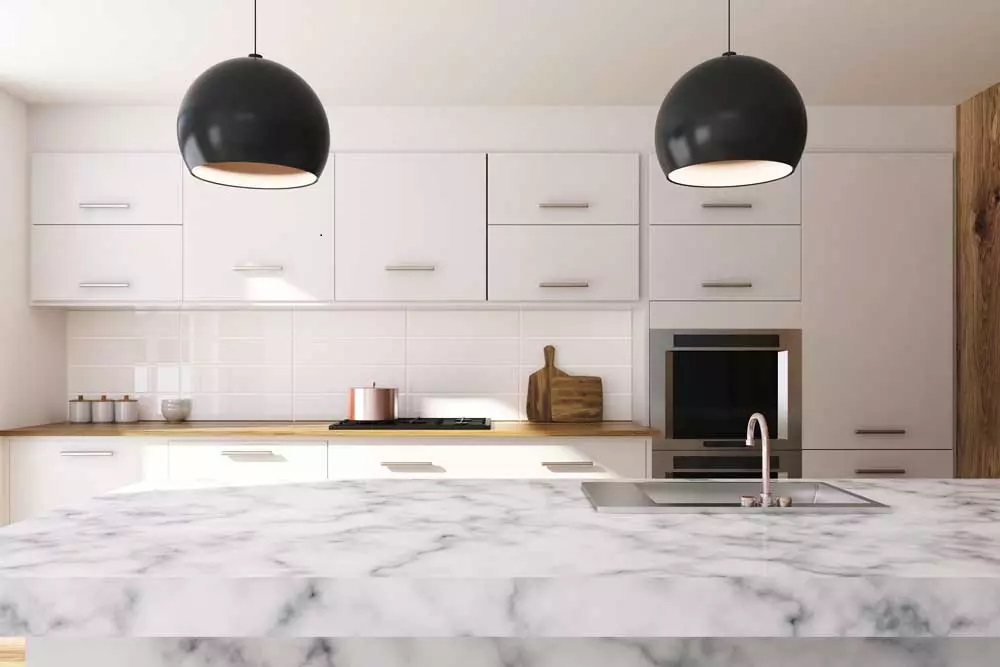 Denver countertops provide a perfect opportunity to elevate the look of your bathrooms and kitchen. There are a variety of countertop options on the market, but certain materials are especially popular among contemporary homeowners. Whether you're looking for elegance, functionality, durability or distinctive character that complements your unique style, consider these trending countertop options.
Quartz
Popular for its durability and low maintenance, quartz is composed of minerals and resin to mimic the look of real stone. Since they are partially manmade, quartz countertops are not porous. This allows them to resist the growth of bacteria and microorganisms without the need for sealant. Regarded as one of the industries rising stars, quartz offers the beauty of natural stone in a diversity of colors and styles. Whatever your preference, you will have no trouble finding a Denver quartz countertop that meshes flawlessly with the vision you have for your bathroom or kitchen.
Another popular kitchen countertop material, granite is a beautiful, robust natural stone product that adds a touch of elegance to kitchens and bathrooms. Even modest rooms seem like luxury spaces when they are flavored with Denver granite countertops. Each slab of granite is characterized by its own distinctive veining and color. The stunning stone product is essentially a functional work of art that actually increases the value of your home. A reputable provider will seal your granite countertop with a 15-year sealer that effectively eliminates the need for maintenance.
Marble
One of the trendiest options among upscale homeowners, marble is a luxurious countertop material that's ideal for heavy-use kitchens. Stunning and sophisticated, marble is both visually striking and highly durable, as long as you take care of it. Proper preventative care means using coasters and heating pads with glasses, pans, and pots. It also means using cutting boards and wiping up spills right away. If you take care of the surface, however, it will remain durable and beautiful for decades. Marble countertops in Denver are available in a range of colors, shades, and styles, so you can easily find an option that complements your home's unique décor.
Soapstone
Denver Soapstone countertops bring distinctive character to virtually any space. The material's attractive milky appearance provides a rustic feel when compared with the elegant and urbane look of slate or granite. A metamorphic rock containing mineral talc, soapstone is a softer stone, allowing for custom-fitted countertops that are nonporous and resistant to stains. It also ages beautifully via a natural process similar to oxidation, taking on a warm, inviting patina over time. Although it is softer than marble and granite, soapstone requires no sealing and is virtually impervious to stains and bacterial growth. This makes it a great surface for food prep and an ideal material for backsplashes behind stoves and sinks.
Limestone
Limestone countertops in Denver have become increasingly popular over the years. In addition to being incredibly beautiful, limestone provides an elegant aesthetic that can tame some of the bolder colors in a home's interior design, while also supporting minimalist themes. Although it is quite durable, limestone is not impervious to scratches and stains. That said, while it does require some active maintenance, limestone also provides some notable benefits. You simply can't match the beauty, elegance and distinction of limestone, making it a brilliant choice of natural stone that easily fits into the aesthetic of any space.
Travertine
A beautiful, chic choice with a sophisticated, luxurious look, travertine has become extremely popular among modern homeowners. Available in an extensive color palette, the material is available in both vein cut and crosscut stones. More affordable than other stone options, travertine is a bit more porous, making it susceptible to stains, especially from acidic foods and beverages. That said, Denver travertine countertops provide a beautiful sheen when polished, are easily worked and wear quite well with proper care.
Your countertops should reflect your style and accommodate your lifestyle and meal preparation needs. When you partner with a reliable, local countertop company such as Rock Solid Custom Granite, you can go into selecting the perfect countertop with open eyes. When you're ready to discuss all the exciting possibilities for your Littleton or Durango home, contact Rock Solid Custom Granite. Whether you need advice, a sample or are ready to arrange an installation, we are here to help you select a beautiful, durable countertop that reflects your individual style and meets your unique needs.