Skip to Content
Trending Kitchen Designs for 2020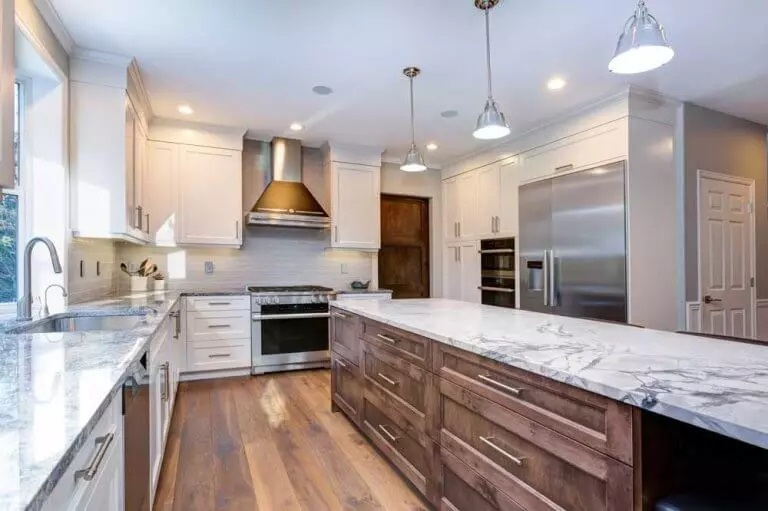 Years ago, the kitchen was a functional afterthought where meals were prepared out of sight. Today, the kitchen has become the focal point of the home, where everyone comes together at the beginning and end of the day. To keep up with shifting needs and innovations, kitchen design trends change from year to year. Here are the biggest trends to expect in 2020
For high-end countertops, quartz is still king. The natural material is extremely durable, anti-microbial and a breeze to maintain.
When they first came into the market, quartz countertops didn't offer much variety in terms of finishes and colors. With time and innovative technology, however, manufacturers can now provide a diverse range of colors and realistic stone patterns. You can even get quartz that's finished with large veining and elaborate swirls to imitate other materials such as natural stone
Right now, there is one notable trend toward more neutral, softer colors. More and more homeowners are embracing colors such as taupe, gray, white or creamy finishes. Pattern preferences have also changed from particulates to veining in recent times. This follows a trend towards cleaner styles appearing in more and more home spaces
Custom Storage Solutions
One of the greatest annoyances with traditional kitchen cabinetry has been an unnecessary waste of space. Basic drawers and shelf designs can leave a lot of wasted area, along with spaces that are often too small for some of the larger cooking wares and food items.
One of the foundations of a modern, functional kitchen is efficient storage. If it is ineffective or inadequate, homeowners endure daily challenges and frustrations. To counter these storage challenges, more and more homeowners are starting to demand better storage solutions within their custom kitchen cabinetry. These can include drawer dividers for cutlery and utensils, appliances garage for small appliances, pull-outs for tray dividers, spices, roll-out trays, and caddies for pans and pots. Many of today's homeowners also demand wastebasket cabinets for recyclables and garbage.
The demand for custom cabinetry will continue throughout 2020 as homeowners seek new kitchen storage options focused on making their daily lives more effortless.
Smart Kitchen Concepts
Technology has already permeated the kitchen, and not just in the form of fancy appliances and gadgets. Modern homeowners are having technology integrated into nearly every kitchen function and appliance, from the fridge to the faucets to the lighting.
In 2020, smart kitchens will continue to be an evolving aspect of design. In fact, a lot of kitchens are already being built smart from the ground up. For older kitchens, smart gadgets, sensors, and other devices can be installed to modernize the spaces and provide more convenience to homeowners.
Easy add-ons include motion sensing kitchen faucets that will turn on automatically when sensing the presence of hands. Homeowners can also add refrigerators that provide alerts when specified grocery items are running low. There are even modern kitchen gadgets that will make sure your coffee is ready in the morning and warn you when your eggs are going bad.
Technology-integrated kitchens are becoming trendy as homeowners experiment with interesting novel technologies. In fact, this is one of the biggest trends going into 2020.
Streamlined Designs and Textures
While styles such as mid-century modern and farmhouse remain popular, more and more homeowners want streamlined overall aesthetics. To escape the fast-paced flow of modern life, homeowners want to come home to functional, stress-free environments. This usually means simplicity and refined designs with modern clean lines.
Some homeowners have opted to remove upper-wall cabinets, opening up visual space to make the kitchen look much brighter and larger. This design scheme also allows homeowners to better utilize the countertop space. That said, this trend isn't always appropriate for larger-family homes which often require more storage space.
Whether you want to keep up with modern trends or enhance an existing kitchen concept with some new, eye-catching features, we're ready to help bring your vision to life.
Prioritizing our customer's needs above everything else, Rock Solid Custom Granite has gained an enduring reputation for being the most reliable granite counters and custom cabinet company in Denver and the surrounding area. Our skilled designers and installers can help enhance your kitchen with quartz countertops, custom cabinets, and more.
Request a 100% free estimate on your next Denver custom countertop or cabinet project today, and let us help you create a stunning look that meets the demanding requirements of your lifestyle.