Skip to Content
What Are Honed Quartz Kitchen Countertops?
Over the past decade, quartz has become a very popular option for countertops in Denver due to its impressive durability and natural aesthetics. When they start shopping for a quartz product, modern homeowners can choose between a polished finish and honed quartz. Read on to learn the differences between each option.
Honed Quartz
Honed quartz refers to countertops that have a softer sheen and less formal, more natural appearance. Also commonly known as matte surfaces, these countertops have an organic aesthetic and a less glossy finish, while still retaining a high-quality look.
Honed quartz is ground down to create a flat, smooth and consistent surface without ridges or bumps. Because they have more of a matte finish, these countertops also have weak reflective properties, making them ideal for kitchens with a lot of bright lighting.
In honed quartz countertops, the natural polish is removed to eliminate shine. That said, the stone's natural look is retained, although it is visibly lighter in color. Most contemporary homeowners prefer matte finishes because they evoke a more casual atmosphere while mitigating the reflection of overhead lighting elements.
Polished Quartz
In contrast to honed quartz which has a flat sheen, polished quartz countertops have highly reflective glossy surfaces that provide a more vibrant look. With polished quartz countertops, the stone's natural traits, such as its hues, colors and vein structures, are highly pronounced.
Glossy polished quartz is among the most common countertop sheens on the market today. Its reflective surface creates a more elegant style. The glossy sheen also makes the countertops easy to maintain, since the smooth, polished surface effectively repels moisture.
Honed vs. Polished Quartz Countertops
Your countertop surface will ultimately enhance or diminish the overall aesthetic of your home. When it comes to choosing between honed or polished quartz, it's important to understand some key differences which will help you make a wise purchasing decision.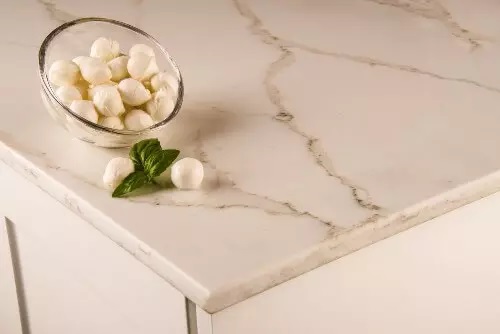 Availability
Honed countertops have traditionally been less readily available than polished surfaces. But more recently, the demand for matte finishes has resulted in an increase in the availability of honed products. Still, you may have to call around to find a local Colorado countertop company that has a nice selection of honed quartz products.
Maintenance
One of the greatest advantages of quartz is that it requires no sealing and minimal maintenance. While present in polished quartz countertops, this quality is lost during the honing process. Honed quartz cabinets are porous, meaning they need to be resealed every few months to preserve their quality and integrity. If you don't regularly reseal the surface, it will be susceptible to stains from food and liquids.
Affordability
Because it is already in its standard, natural form, polished quartz does not require any additional processing, meaning you won't have to pay extra fees or charges. On the other hand, honed quartz requires the removal of the naturally polished surface, which requires processing and added costs. The amount of the expense will depend on the fabricator.
Which Option Is Right for You?
When choosing between honed and polished quartz countertops in Denver, you will need to consider several things. If your countertop will be in a high-traffic area, a matte finish will help hide any nicks and scratches that might occur. On the other hand, if the countertops will be exposed to children and an increased risk of stains, a glossy finish may be safer.
At the end of the day, however, the decision comes down to personal preference. Do you like the look and feel of matte surfaces, or would you prefer the elegance and sophistication of glossy quartz? It all comes down to what you really prefer and how each look blends with your existing design scheme.
Quartz has continued to gain in popularity over the years because of its durability and beauty in high-traffic areas. If you're considering quartz countertops for a remodel or new home build, be sure to explore all your finish options.
The experts at Rock Solid Custom Granite can help you decide on the perfect countertop for your kitchen or bathroom. Serving all of Denver and the surrounding area, we provide beautiful natural stone countertops and custom cabinets. When Colorado homeowners work with our talented experts, they can expect the finest workmanship and best materials, guaranteed. Contact us to learn more.