Skip to Content
Is a Kitchen Remodel Worth It?
The kitchen is the heart and hub of most homes, so it makes sense to invest in its function and aesthetic. Many people spend tens of thousands of dollars on kitchen upgrades, while others are hesitant to spend more than a few hundred dollars. Which one makes the most sense? Read on to learn the pros and cons of a kitchen model.
Does It Increase Home Value?
Most kitchen remodels will add at least some value to a home, especially if the improvements differentiate the property from similar home inventory in the area. That said, this doesn't necessarily mean you will always get a full return on your investment.
How much you can recoup on a renovation depends on how much you spend and what type of renovations you choose. For instance, the national average ROI for a major upscale kitchen remodel is around 54%. That means you can only expect to recoup about $34,000 after spending around $63,000
For smaller renovation projects, the average ROI is 81%. That means you can expect to recoup about $17,000 for a $21,000 investment.
In addition to how much you spend, your ROI can be influenced by where you live. Although the national average ROI for a minor kitchen remodel is 81%, the percentage jumps to 93% in the Pacific area of the country and dips to 68% in the upper Midwest. For Colorado residents, ROI tends to be around 83%
With all of that said, there's no cookie-cutter, one-size-fits-all ROI for kitchen remodeling. Your specific ROI will depend on the specifics of your unique local market. It also has a lot to do with which specific types of renovations you choose to make.
Which Upgrades Make the Most Sense?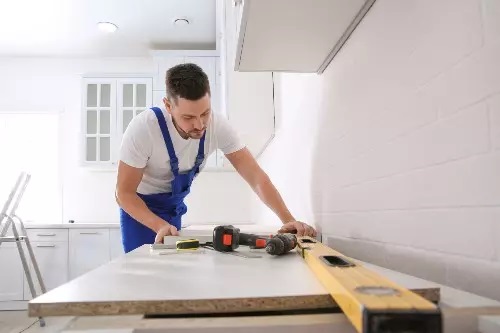 When it comes to enhancing a kitchen's look and function, a full-scale remodel isn't always necessary. Some new countertops and/or new cabinets can significantly upgrade a kitchen, and make a property more attractive to buyers. It's also usually easy to recoup these types of costs if you choose to sell your property.
By leveraging the incredible natural beauty of stone countertops, you can pique interest in home buyers and differentiate your property from similar houses in their areas.
These days, there are attractive options for almost any budget. Homeowners can choose from popular stone countertops including classic granite, breathtaking limestone, soapstone, onyx, travertine and marble. They can also harness the stunning power of natural minerals such as quartz to create magazine-quality kitchens with refined design elements.
All of this can be achieved at a very reasonable cost, so homeowners get the look they want without having to mortgage their futures.
Is It Worth It to Remodel a Kitchen?
The answer to this question depends on you and your individual goals. If you are planning to sell your home in a couple of months, it may not be wise to spend $50,000 on a new kitchen if your real estate agent thinks you will only recoup $30,000. In that case, it would make more sense to do a few targeted renovations that might cost only $5,000. The right upgrades and updates can give your property value a boost before it hits the market, while attracting more buyers to help create bidding wars.
If you and your family plan to enjoy the kitchen yourself, a remodel makes a whole lot of sense. Having a kitchen that you really love can affect your day-to-day life in many positive ways. According to surveys, homeowners said they enjoyed a healthier lifestyle after renovating their kitchens. They also reported an increase in quality family time and said they tended to cook more at home.
Even if you don't completely recoup the entire cost of your remodel when you sell your home, updating your kitchen can still be a worthwhile investment for you and your family.
Serving all of Denver and the surrounding area, Rock Solid Custom Granite provides beautiful custom cabinets and gorgeous natural stone countertops for kitchens and bathrooms. Our talented craftsmen leverage master skills and modern design techniques to take your vision and bring it to life. When homeowners work with our skilled experts, they can expect the best materials and finest workmanship, guaranteed. Contact us to learn how we can turn your kitchen from ordinary to extraordinary.