Skip to Content
Cabinets and Counters in Castle Rock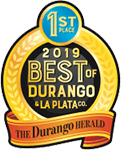 Castle Rock
Monday: 8:00 AM – 4:00 PM
Tuesday: 8:00 AM – 4:00 PM
Wednesday: 8:00 AM – 4:00 PM
Thursday: 8:00 AM – 4:00 PM
Friday: 8:00 AM – 3:00 PM
Saturday: 10:00 AM – 2:00 PM
Use the Form Below for Your Free Estimate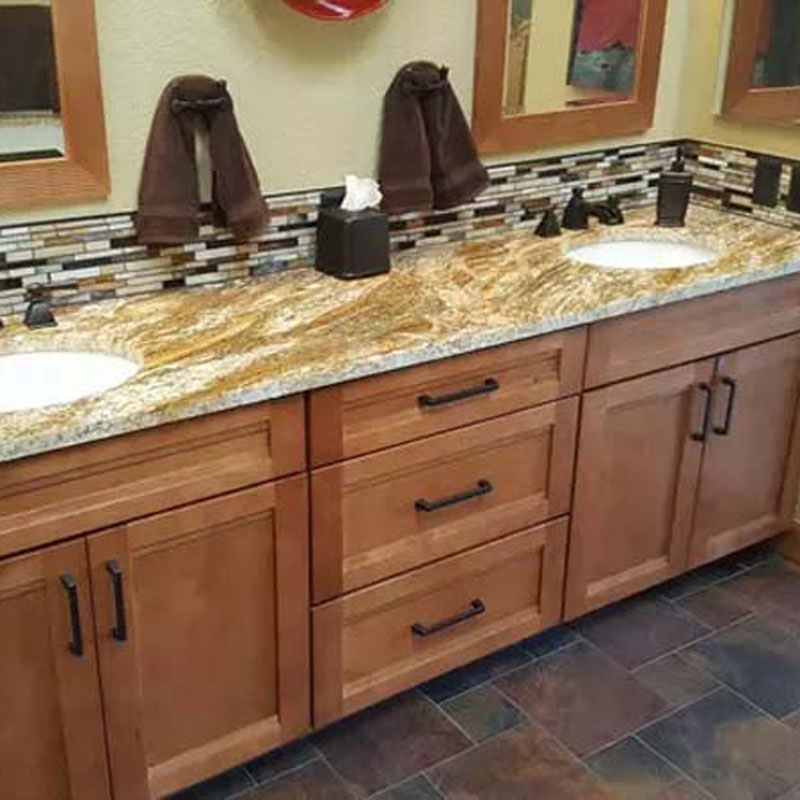 Top Quality Natural Stone Countertops
Artfully balancing aesthetics with function, Rock Solid Custom Granite is the premier choice for natural stone countertops and cabinets in Castle Rock. Leveraging the finest materials, we craft distinctive designs that elevate the look and feel of a home. Whatever your personal style, whatever your goals, we can help turn your boldest vision into reality. Embrace stylish functionality with natural stone countertops that turn ordinary rooms into spectacular spaces. With the most varied selection of fine natural stone and granite countertops in Castle Rock and the surrounding area, Rock Solid Custom Granite can elevate the look of your home with customized countertops that complement your existing décor.
Select from the finest stone options, including onyx, travertine, soapstone and marble. Empowered by years of experience, our skilled craftsmen can also harness the bold power of elegant minerals such as quartz to drastically enhance the look of your kitchen and bathrooms. Strengthening our ability to serve homeowners in and around Castle Rock, we've established relationships with the industry's most prestigious names, allowing us to provide customized quartz countertops made by DuPont Zodiaq, Cambria, Hanstone, Silestone, Caesarstone and LG Viatera.
With master skills and diverse material choices, Rock Solid Custom Granite is uniquely positioned to elevate the look of your home with durable countertops that inspire the senses.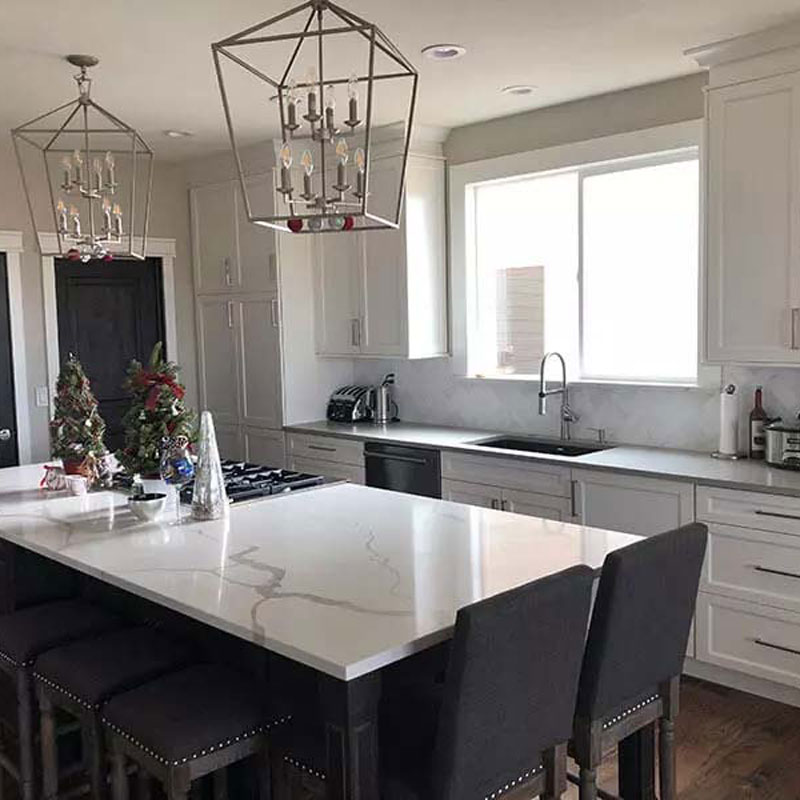 We Only Work With Top Providers
To craft the very best natural stone countertops, you need experience, expertise and the highest quality materials. That's why we have worked hard to build enduring relationships with the region's very best stone suppliers, including:
These relationships allow us to complement a home's existing décor by installing stunning countertops with refined design elements that are customized to meet each client's unique expectations. Whether you value functionality, elegance, durability or a take-notice finish, we can meet your needs, thanks to our flawless craftsmanship, endless knowledge and invaluable partnerships. With Rock Solid Custom Granite, you will always get the very best materials, accurate measurements, impeccable cutting, seamless installation and stunning finishes.
A Collaborative Experience
With an unrelenting dedication to customer satisfaction, our designers work alongside you to learn your desires and fulfill your individual goals. If you aren't sure where to begin, we can make recommendations and help guide you through the process until you find a material and style that suits your unique preferences. Starting with your existing space, our designers work with you to craft inspired storage solutions without uneven dimensions or space-wasting blank areas.
Cabinets in Castle Rock, Colorado
At Rock Solid Custom Granite, we also provide cabinets that solve the most challenging display, storage and space challenges, while transforming a room into something truly special. In addition to kitchens and bathrooms, we can install cabinets in other rooms, including closets, home offices, family rooms and media centers.
Not sure how cabinets will affect the look of your kitchen? Preview your options using our online kitchen visualizer. Use the innovative tool to mix and match every possible kitchen concept. Choose between an extensive variety of colors and styles. Experiment with an array of natural stone countertop options. Swap out appliances to test out various colors and styles. The choices are virtually endless, allowing you to target the exact right design scheme for your home's distinctive style.
The Finest Materials and Craftsmanship, Guaranteed
When you work with Rock Solid Custom Granite, you can expect top-quality results each and every time. Unlike other cabinet companies in Castle Rock which often use stock cabinetry, we only install masterfully crafted cabinets made from the best materials. In addition to boosting property value and enhancing your home's aesthetic, our cabinets discreetly conceal the inner workings of your home. An employee-owned company, we do all the designing and installing ourselves without outsourcing to subcontractors.
Serving Colorado homeowners for more than a decade, Rock Solid Custom Granite has gained a widespread reputation for being the best granite counters company in Castle Rock and the surrounding area. When you choose to work with us, you can expect the best materials and finest workmanship every single time. Request a free estimate today and let us bring your dreams into the real world.