Skip to Content
7 Kitchen Cabinet Design Ideas for 2023
Planning to remodel your kitchen in the coming year? Whether you prefer something rustic or modern, it helps to know the most recent trends in home design. With this in mind, here are some of the hottest kitchen cabinet design ideas for 2023.
Open Frame Kitchen Cabinets
Open-frame cabinet doors are a fantastic middle-ground between traditional cabinets and open shelving. They include glass panels that clearly display kitchen items such as glasses and plates.
Traditional kitchens typically include a few open panes to display barware or fine china, but more and more modern homeowners are choosing this cabinet trend for everyday use. This kitchen design works well with more bright, well-lit kitchens because the illusion of more open space makes the area look larger than it is.
Open-frame cabinets can look more traditional or modern, depending on the chosen cabinet hardware and the design of the kitchen.
Slab Door Cabinets
Slab cabinets are very sleek and modern. Many are so sleek, in fact, they don't have handles or graspable knobs. These kitchen cabinets have frameless, flat fronts and often feature glossier finishes.
Part of that minimalist home design trend, slab kitchen cabinets are an easy way to modernize your kitchen. Quite popular in smaller spaces, slab cabinets are often accented with subdued backsplashes, countertops, and flooring in accordance with more modern themes with minimalist attributes.
Mix Modern Farmhouse Kitchen
There are a lot of ways to make a farmhouse kitchen look and feel a bit more modern. For example, you can install black cabinets to add a compelling, contemporary vibe. Modern fixtures and smart appliances are another easy way to blend classic farmhouse appeal with today's conveniences. A wooden kitchen island also provides a bit of warmth that helps balance modern accessories.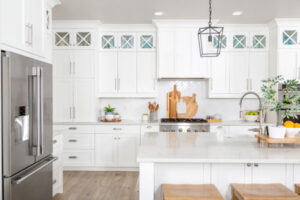 Cozy Black Kitchen
In 2023, we expect to see homeowners continue to embrace industrial-style kitchen remodels. Distressed cabinets stained with a deep black hue add a nice, alluring industrial ambiance to a kitchen. The glossy finish of a beautiful gray quartz countertop also adds modernity to a space. Wooden hanging pendant lights work well with distressed cabinets, and a nice chalkboard in this kitchen can add a vintage accent to your industrial-inspired remodel.
Transitional Kitchen Cabinets
Transitional styles refer to the mixing of new and old designs. It is essentially the act of updating or modernizing more traditional looks by strategically adding more modern pieces.
Transitional cabinets can include more traditional designs with contemporary hardware. It could also include a kitchen with modern shaker cabinets complemented by a classic open-frame display cabinet. When done properly, transitional cabinets are an effective way to maintain a more traditional look in the kitchen that won't look dated.
Blue Kitchen Cabinets
Cool and light, blue cabinets are becoming a trendy force in kitchen design. That said, most are less blue and grayer, creating a neutral effect that still infuses a touch of mild color. As high-contrast looks continue to gain popularity, it makes sense that blue will see increased interest in the coming year. The compelling color provides a nice soft contrast for stark white kitchens while also providing a darker, more homey atmosphere. Blue cabinets are also a nice look for homeowners who want a relaxed or beach-style feel to their homes.
White Kitchen Cabinets
Modern and sleek, white cabinets tend to open and brighten spaces that might otherwise seem dim and crowded. They also pair beautifully with many trendy designs, including farmhouse kitchens. White kitchen cabinetry brings a lott of flexibility that works well with rustic, countryside kitchen designs and high-end looks with more modern accessories.
From trendy styles to fully customized designs, Rock Solid Custom Granite can design and fabricate the perfect cabinets for your home's unique interior design scheme. Our experts can work with you to create custom cabinets that suit your individual needs and elevate your space by making the right kind of statement.
Rock Solid has gained a hard-won reputation for being the best, most reliable granite counters company in the Denver metro area. Employee-owned, our company does it all from start to finish. This means we never outsource any key jobs to subcontractors. When homeowners work with our skilled, courteous experts, they can expect stunning natural stone countertops that stand the test of time. Contact us to learn more.