Skip to Content
Guide to Countertop Thickness
How thick should your natural stone countertop be? Although it might seem like a minor detail, this critical decision will play a big role in determining everything from pricing and durability to the aesthetic and labor required to install your countertop. Here's how to choose the appropriate counter thickness for your new natural stone countertops.
Which Counter Thickness Is Best?
Three centimeters is the preferred quartz and granite counter thickness for most countertop designers, fabricators, and architects. This degree of thickness offers the most size flexibility, overall durability, and color options. Three-centimeter granite and quartz counter thickness can also go directly on top of cabinets without any additional plywood support.
With all that said, there may be good reasons to choose a thinner countertop based on your specific preferences and needs. Here are some things to consider when deciding on how thick your new countertops will be.
Determine Your Options
When choosing a thickness for a countertop, the first step is to find out what's available. For instance, 2cm (~¾") and 3cm (1 ¼") are the two most common thicknesses for quartz slabs. Bear in mind that it's also possible to create the appearance of a thicker counter by building up the edge.
Know Your Budget
The cost of a natural stone countertop directly relates to its size. The cost will increase in relation to thickness because thicker countertops require more material. While three-centimeter counters look more substantial, they also increase the overall cost of the project. Bear in mind that longer counters also cost more because, once again, they require more raw material.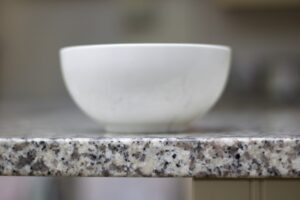 Consider the Space
Granite and quartz countertops can be installed in a variety of different spaces, including bathroom vanities, island tops, tabletops, bartops, kitchen countertops, and more.
Since your home's kitchen is considered a focal point, you should consider installing three-centimeter counters that will allow for a custom edge that really draws the eye. Three-centimeter tops also make more sense in kitchens because they have the durability to withstand the daily wear and tear that comes with kitchen use.
For bathrooms, you may be able to get away with two-centimeter counters since these rooms make less of a statement compared to the kitchen, which is generally considered the heart and soul of a home. Bear in mind, however, you should definitely choose a thicker countertop if you are dealing with a high-traffic area where forceful impacts are more likely.
Learn About Your Area
It may surprise you to learn that regional preferences can influence the popularity of, not just countertop material, but preferred thickness. Since granite and quartz countertops influence the resale value of your home, it's important to make sure renovations reflect what local home buyers prefer.
There are parts of the nation, particularly along the west coast, where two-centimeter countertops are more acceptable. Elsewhere, three-centimeter slabs are preferred or even expected.
Factor in Edge Style
Eased edges are some of the most popular styles for modern countertops. These styles have straight edges that have been slightly rounded to avoid a sharp line. That said, there are plenty of other options.
Dupont, ogee, half-bullnose, and bullnose are possibilities, and some of these look much better on thicker countertops, while others look better on thinner slabs. Decorative styles such as DuPont and ogee may look better on two-centimeter counters, making them nice options for formal bathrooms. On the other hand, a big bullnose on a three-centimeter kitchen countertop can yield a very different look that can be aesthetically pleasing.
From trendy countertop edges to customized edge designs, Rock Solid Custom Granite can design and fabricate the perfect thickness and edges to fit your home's unique interior design scheme. Our experts can work with you to create custom countertops that suit your individual needs and elevate your space by making the right kind of statement.
Rock Solid has gained a hard-won reputation for being the best, most reliable granite counters company in the Denver metro area. Employee-owned, our company does it all from start to finish. This means we never outsource any key jobs to subcontractors. When homeowners work with our skilled, courteous experts, they can expect stunning natural stone countertops that stand the test of time. Contact us to learn more, and to get a free estimate on your next countertop project.