Skip to Content
The Benefits of Choosing Custom Cabinets for Your Home Office
A home office should be designed to promote comfort and focus. It should be a place that streamlines productivity and encourages flow. You simply cannot have these things without an efficient organizational system. And the best way to get organized is to add a personalized touch with custom cabinets for home offices.
The Problem with Prefab Cabinets
Prefabricated office cabinets are a one-size-fits-all, cookie-cutter approach with no personalization whatsoever. This brings big limitations that make your work environment less organized and much less efficient. It can also make your space less ergonomic, resulting in neck and back pain, along with eye strain that can lead to headaches and sleep problems.
If you really want to maximize the space and functionality of your office, custom cabinets are the way to go. The team at Rock Solid can carefully analyze your space and talk to you about your specific needs and desires. They will then tailor a design strategy around your personalized preferences to help maximize the style, storage, and efficiency of your new cabinets.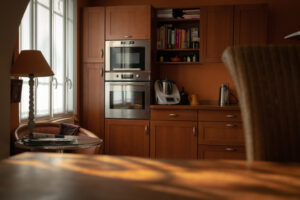 We Do It All Right before Your Eyes
Streamline workflow, spark more creativity, and maximize comfort with custom cabinets for your office. From trendy styles to fully personalized designs, Rock Solid can design and fabricate the ideal cabinets for your office's specific demands and unique interior design scheme.
Over the years, we've earned a well-deserved reputation for being the most reliable and creative custom cabinet company in the Denver metro area. One-hundred-percent employee-owned, we do it all from start to finish. This means we won't outsource any critically important jobs to subcontractors. When homeowners work with our skilled, attentive team, they can expect stunning custom office cabinets that stand the test of time.
Contact our team and let's create an office that works for you!