Skip to Content
Advantages of Cambria Quartz Countertops
When it comes to kitchen countertop materials, there are several choices for modern homeowners. For those who appreciate beauty, durability, and low maintenance, Cambria Quartz is a fine option. Read on to learn the many benefits of choosing this popular countertop material.
What Is Cambria Quartz?
Cambria Quartz is a family-owned, American-made brand of quartz countertops. A high-quality product, Cambria Quartz slabs are made up of 93% crushed quartz and 7% binder and pigment. Unlike granite, Cambria Quartz never needs to be sealed. It's also highly scratch- and stain-resistant.
Sold exclusively through Cambria Approved Premier Dealers, Cambria Quartz carries a Lifetime Warranty against manufacturing defects. This is a reflection of the product's durability and dependability. But the benefits don't stop there. Here are some of the reasons you should consider Cambria Quartz for your kitchen remodel.
Durability
Cambria Quartz is a very hard and extremely durable option for kitchen countertops. The surface is highly resistant to scratching and chipping. For this reason, it comes with a 25-year or lifetime warranty, depending on the manufacturer. Other popular natural stone countertop options, such as Granite, typically only offer a 10-year warranty.
Customization
Cambria quartz comes in an array of different color patterns and options. There are more than one hundred different color choices, including everything from pastels and neutrals that blend with existing design themes to bright and loud colors that create a bold statement in any kitchen. Certain options even mimic natural stones such as marble.
Safe
Many household items emit volatile organic compounds that can negatively impact our health. One of the benefits of Cambria Quartz is that it is a low-emitting household product. This means the countertop option has been recognized as a safe indoor material, requiring no expensive ventilation systems or air filtration.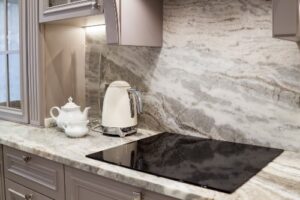 What's more, NSF International has also certified Cambria countertops as a food-safe surface. This is due to the material's non-porous nature which makes it an inhospitable environment for bacteria, mildew, and mold growth. If you have a Cambria quartz countertop, you can chop and slice raw meat and vegetables without having to use a cutting board.
Low Maintenance
Cambria quartz countertops are a very low-maintenance option for busy homeowners. Because they are stain-resistant, you won't need to worry about spilled drinks and coffee rings. On the other hand, this can be a big problem for granite and marble since acids can corrode the porous surface of the stone.
Cambria quartz can typically be cleaned with dish soap and a wet rag. Its anti-bacterial surface also reduces the need for cleaning substances with harsh chemicals.
There is also no need to reseal or polish Cambria quartz countertops every couple of years. Most Cambria quartz will maintain its lustrous shine for decades and look just as good as the day it was installed.
Increased Property Value
If you plan to sell your property in the next three to five years, then installing Cambria quartz stone countertops can be a smart strategic choice. Because they have such a long lifespan, these beautiful countertops can increase property value, especially if you have a lifetime warranty.
While it's true that Cambria Quartz can cost more, many homeowners recoup much of this investment in the long run. While the up-front material and installation costs are more expensive compared to other material options; when you factor in the cost of repairs, maintenance, and replacement, quartz countertops can end up saving homeowners money over their lifetime.
Cambria Quartz has continued to gain in popularity over the years because of its beauty and durability in high-traffic areas. If you're considering quartz countertops for a new home build or remodel, be sure to explore all your material and finish options.
Whether it's quartz, granite, or some other type of natural stone material, the experts at Rock Solid Custom Granite can help guide you toward the perfect countertop for your kitchen or bathroom. Serving all of Denver and the surrounding area, we provide beautiful natural stone countertops and custom cabinets. When Colorado homeowners work with our talented experts, they can expect the finest workmanship and best materials, guaranteed. Contact us to learn more and to get a free estimate on your next countertop project.