Skip to Content
Standard Countertop Overhang
Countertop overhang is an important consideration when planning a kitchen remodel. Here are the standard measurements to help you plan an effective design.
What Is Countertop Overhang?
Countertop overhang refers to the part of the countertop that extends over the drawers and cabinets. In addition to providing an aesthetic element, the overhang helps to prevent spills and crumbs from falling off the countertop and onto the floor.
If you stand directly over your countertop and look down, the edge that is nearest to you and facing the rest of the room is called the leading edge. By measuring from this specific point back to the base cabinets, you can get an accurate measurement of your countertop overhang.
How Much Overhang Do I Need for a Countertop?
Different styles of countertops and countertop edges call for different lengths of countertop overhang. Below are some of the most common countertop overhang measurements for popular styles.
Standard Overhang
A typical countertop overhang will be 1.5 inches. Keep in mind, however, that this isn't always the case. In certain instances, a larger or smaller overhang may be desired. This is more common with custom countertops. Still, while some countertops can have different overhang measurements, 1.5 inches is considered standard for residential homes.
Kitchen Islands
The standard countertop overhang for kitchen islands is 12 inches. That said, like regular countertops, custom islands can have varying overhang measurements.
Raised Bar Tops
Raised bars are generally 42 to 48 inches in height, so they can accommodate bar stools. For these countertops, the standard overhang is also 12 inches.
Front or Room-Side Countertop
Most stock or semi-custom kitchen base cabinets are two-feet deep. A countertop that sits 25-1/4 inches deep will generally leave an overhang of 1-1/4 inches. You typically won't need to specify the overhang when planning standard countertops with design professionals since the depth is predetermined.
Against an Appliance
Where countertops butt up against appliances, the overhang should be about 1/4-inch to 1/8-inch.
Against a Wall
Where countertops meet walls, whether to the sides or in the back, there shouldn't be any overhang since this would create a slit that's large enough to collect dust.
Granite Countertops
The standard recommended overhang for granite countertops is 1.5 inches, just as it is with any other countertop material.
Bars
The countertop overhang for a home bar will usually be about eight inches. In homes with less space, you can conserve area by reducing the overhang to six inches. This is more practical if you expect most users to stand at the bar. Bear in mind, however, that overhangs of less than eight inches tend to be uncomfortable for many users.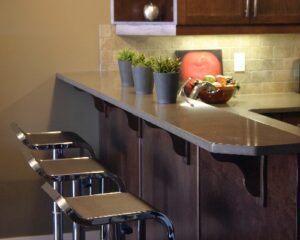 Can You Extend the Overhang?
It is certainly possible to extend the overhang, but it could cause stability problems in certain instances. If you extended the overhang of a kitchen island countertop, for instance, you may need to add supports such as legs or corbels.
Countertop overhang often depends on other measurements, such as cabinetry and the countertop itself. Even so, there are always standard dimensions that can help guide homeowners as they plan out a kitchen remodel. It's important to consider standard dimensions since they can play a critical role in establishing an attractive, effective kitchen design.
Considerations
Countertop overhang is an important consideration. In addition to preventing countertop drips from running down the face of your base cabinets; it also hides the junction between the cabinet and countertop. Sufficient overhang in kitchens also allows anyone standing at the countertop to work comfortably because they are able to get closer to their workspace.
In some instances, homeowners may want to shorten or extend overhand based on their unique needs and design scheme. With countertop seating, for instance, a greater overhang distance is generally needed since the user's legs will be bent while seated.
From standard countertop edges to custom designs, Rock Solid Custom Granite can design and fabricate the perfect edges to complement your home's unique style. Our design experts can work with you to craft custom Denver countertops that elevate your space and suit your individual needs while also making a statement.
Rock Solid has gained a hard-won reputation for being the best, most reliable granite counters company in the Denver metro area. Employee-owned, our company does it all from start to finish. This means we never outsource any key jobs to subcontractors. When homeowners work with our skilled, courteous experts, they can expect stunning natural stone countertops that stand the test of time. Contact us today for a free estimate on your next countertop project!