Skip to Content
Comparing Different Countertop Materials
When you are planning a kitchen remodel for your home, your countertops are among the most critical features that you will need to choose. From natural stone materials, such as quartz countertops, to a variety of quality engineered products, you will have a range of options to choose from as you are shopping for countertops for your kitchen design. A company offering granite in Littleton will be able to assist you with every step of choosing the perfect countertops for your home. To help you get started on your countertop selection, here is a quick comparison of some of the most popular countertop materials.
A Breakdown of Different Countertop Materials
Granite countertops are among the most durable and beautiful countertop options that you will have for your new kitchen. Since granite comes in a rainbow of colors and patterns, you will have the ability to select a granite style that fits perfectly with your vision for your kitchen design. When you work with a company offering custom granite, you will also be able to have granite slabs cut specifically to meet the dimensions of your kitchen.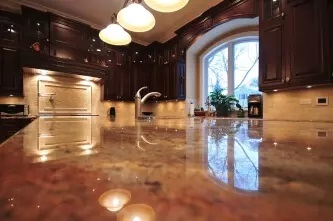 Soapstone and Marble Countertops
If you love the look and feel of granite, but are seeking additional luxury for your kitchen space, you may want to consider other natural stone materials. Both soapstone and marble countertops will make a beautiful addition to any kitchen. When you choose marble for your kitchen countertops, it is important to be aware of any additional maintenance that your new counters may require.
Engineered Stone Countertops
When you are seeking a budget-friendly alternative to traditional stone countertops, you may want to investigate any engineered stone countertops that may be available at your custom granite showroom. Engineered stone countertops are typically made of a quartz composite, and these counters offer the durability and beautiful colors that are hallmarks of granite and other types of natural stone. Your kitchen countertop specialist will be able to answer your questions about the different countertop options that are available to you.