Skip to Content
Redesigning Your Bathroom Countertops
Whether you are seeking to add value to your home, or are simply looking to create your very own sanctuary, a bathroom remodel is one of the top home improvement projects that you can perform for your home. By updating your bathroom with granite or quartz countertops, you will ensure that your bathroom's styling is modern, functional, and up to date. A company specializing in granite countertops in Littleton will be able to assist you through every step of designing and installing your new bathroom countertops. If you are planning an upcoming bathroom remodel, here is a look at some top tips for redesigning your bathroom countertops.
Consider Colors
One of the first factors that you will need to consider when you are planning a countertop remodel is the color of your new surfaces. When you are working with natural stone countertops, you will have an amazing selection of hues and patterns to choose from. For example, granite countertops are available in many different colors, ranging from warm neutrals to cool earth tones.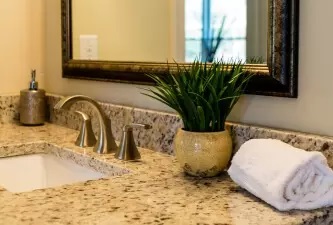 Evaluate Other Features
To get the most out of your new countertop installation, you will also need to evaluate the other features and design elements in your bathroom. For example, it is a terrific idea to make sure that the color and styling of your bathroom countertops matches with your existing bathroom cabinetry. Other elements to consider include your fixtures, as well as your wall paint color. By keeping these features in mind, you will create a bathroom design that is in perfect harmony.
Focus On Durability
Like your kitchen counters, your bathroom countertops may receive significant use on a daily basis. As you are selecting new bathroom countertops for your home, it is a great idea to choose a material that is extremely durable and easy to clean. For example, granite countertops are extremely low maintenance and are built to withstand everyday wear and tear. With the help of a countertop installation professional, you will be well on your way to selecting new counters for your bathroom space.