Skip to Content
The finishing touch to your Denver kitchen countertop installation, countertop edges are anything but an afterthought. The right edges can drastically alter the look and feel of your natural stone countertops. At the same time, they can influence their durability, ease of maintenance, safety, and cost.
With decades of experience, Rock Solid Custom Granite has the expertise to provide virtually any popular or customized countertop edge. We can also make expert recommendations based on your lifestyle and individual style.
To help you make an informed decision, here are some of the most common countertop edge styles, along with some pros and cons associated with each option.
Standard Square
If you'd like a clean, classic look for your new kitchen design, you may want to choose standard square kitchen countertop edges. The standard square edge is achieved by polishing the 90-degree angles that are created when the granite slabs are cut out of raw materials. When you go with standard square countertop edges, you can rest assured that your countertop design will not detract from other materials that you want to stand out in your kitchen.
Pros
An affordable edge to make that's less likely to sustain damage over time
Suits almost every style of home, from traditional to modern designs
Easy to wipe crumbs off the edges of the countertop
Great with new quartz, granite and other stone options
Cons
Some homeowners consider the style a bit too minimalist
Not an ideal edge for parents with young children who may run into the pointed edges
Square Mitered
For homeowners who want a show-stopping appearance for their kitchen countertops, a square-mitered edge may be the way to go. Instead of showcasing the countertop's natural edge and thickness, a square mitered edge adds additional bulk to the circumference of the countertop edge. By choosing mitered edges, you can ensure that your countertops are the main focal point for your kitchen redesign.
Pros
Brings the impression of a thicker countertop.
Adds an elegant finish to a bathroom or kitchen
Delivers a thicker appearance or transitions into a waterfall edge
Pairs well with traditional and modern designs
Easy to maintain and clean
Cons
More expensive than standard edges
Requires a seasoned countertop installer
Bullnose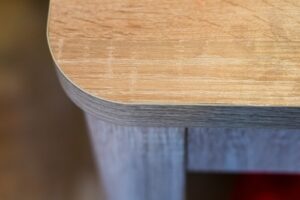 A bullnose edge is a gorgeous counter edge style used in kitchens for many decades. Unlike square or mitered edges, which feature sharp lines, a bullnose edge is completely rounded. If you are a parent of young children, you may consider the advantages of choosing safely rounded bullnose edges for your kitchen countertops. A countertop installation expert at Rock Solid Custom Granite can provide you with information about the relative advantages of bullnose and other types of countertop edge.
Pros
Full bullnose edges are a safe, attractive edge for people who have small children
The bullnose design helps prevent damage to your countertops
The contemporary stone edge style can also work well in traditional kitchens
Works well with granite, quartz, and other types of natural stone
Cons
Liquids can easily overflow past the rounded bullnose edge and onto your lower cabinets
It can be difficult to clean crumbs from a bullnose countertop because they can go beneath the curved surface of the edges
Bear in mind that certain countertop materials cannot accommodate all edge styles. Additionally, some countertop edges are poorly suited for smaller kitchens with tight corners.
If you have a large, expansive kitchen, almost every countertop edge will look at home. That said, certain options fit better with established design schemes, whether they're modern, classic, minimalist, or elegantly ornate. When choosing an edge, it's best to get input from an expert who can make recommendations based on your personal taste and lifestyle.
From popular countertop edges to custom edge designs, Rock Solid Custom Granite can design and fabricate the perfect edges to complement your home's unique style. Our design experts can work with you to craft custom Denver countertops that elevate your space and suit your individual needs while also making a statement.
Rock Solid has gained a hard-won reputation for being the best, most reliable granite counters company in the Denver metro area. Employee-owned, our company does it all from start to finish. This means we never outsource any key jobs to subcontractors. When homeowners work with our skilled, courteous experts, they can expect stunning natural stone countertops that stand the test of time.