Skip to Content
How to Choose the Best Custom Cabinets to Maximize Your Space
Cabinets are a critical part of a finished home. They turn empty space into convenient living space while providing substance and style. They also provide organization for everything from bathroom towels and kitchen plates to spare batteries and living room media equipment.
Unfortunately, poorly designed cabinets can be a frustrating visual blemish on an otherwise lovely kitchen design. It's not enough to have cabinets that look great; you need them to be functional as well. To ensure that you get optimal efficiency, it's important to maximize your space with the following fundamental design tips.
Avoid Prefabricated Cabinets
Prefabricated cabinets are sort of a one-size-fits-all, cookie-cutter approach to kitchen design. Unfortunately, this brings a lot of limitations that can compromise space. When space and cabinet measurements just don't add up, installers often have to either use fillers that create dead space or leave in place blank walls.
If you really want to maximize the space in your kitchens and bathrooms, custom cabinets are a great way to go. A professional contractor will carefully analyze your space and determine all the best ways to maximize the style, storage and efficiency of your new cabinets.
You can get beautiful corner cabinets perfectly shaped to your walls, along with pull-out drawers that flawlessly slot into the most convenient places. You can also get appliance garages nestled just where you need them. The options are virtually limitless when you have custom cabinets. You can build the ideal kitchen for the way you personally cook.
Determine Your Needs and Limitations
Many homeowners approach cabinet design with unrealistic hopes. More often than not, a seamless balance needs to be struck between functionality, style and cost. You should begin by prioritizing your wants and needs, while acknowledging any constraints you face, such as cost, timing and the many structural realities of your home.
An experienced cabinet contractor can help you come up with solutions for your unique issues so you can get new cabinets that meet your needs and make the most of your limited space. A good designer understands the basic functional requirements for different kinds of cabinets (kitchen, media, display) and is able to fulfill them while also providing a pleasing design.
Fit Your Cabinets to Your Lifestyle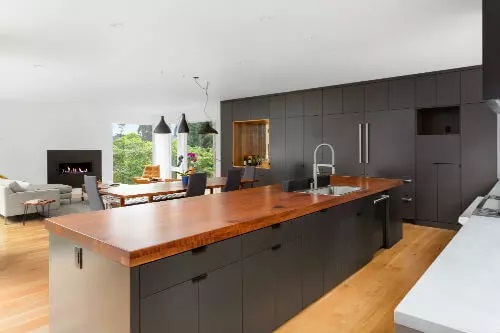 If you really want to be happy with your cabinets, you need to make them fit your lifestyle. You can save a lot of space by installing base cabinet drawers instead of doors to provide easier access to tools, dishes and foodstuffs. But this isn't always preferable, especially for taller people who don't like bending down all the time.
If you are well organized or want a storage system that is convenient and easily accessible, open shelving is a great option. It works great with more casual styles and can be ideal for smaller spaces since it makes rooms look bigger. That said, if you're very busy or not particularly organized, it can make things look cluttered.
Talk to your cabinet designer, so they can get an idea of your unique needs and preferences. This will allow them to make suggestions to help you maximize space without sacrificing the functionality and aesthetics you are looking for.
Consider Some Clever Design Strategies
There are a variety of smart ways to make the most of limited space when installing cabinets, including:
Moving doors and windows
Choosing a pull-out pantry
Making use of corner cabinets
Opting for convenient pull-out trash bins
Using drawers instead of doors in base cabinets
Dedicating one wall for floor-to-ceiling storage
Requesting wall cabinets that extend all the way up to the ceiling
While basic cabinetry involves a lot of fundamental rules, a good designer knows how to adjust them to functionality and design. If they have the experience and know-how, they can bend some rules to accommodate various styles while preserving basic functionality. If you're interested in maximizing space without sacrificing function or aesthetics, it's important to work with a reputable local Denver cabinets contractor who can provide unique, forward-thinking solutions instead of cookie-cutter cabinets for every single client.
Rock Solid has gained a well-deserved reputation for being the best, most reputable granite counters and custom cabinetry company in Denver. An employee-owned company, we do everything ourselves without outsourcing to subcontractors. When homeowners work with our talented experts, they can expect beautiful, functional cabinetry with no wasted space. To get started with your custom cabinet project or get a free estimate, contact us today.