Skip to Content
How to Clean Quartz Countertops
Quartz countertops are a stunning addition to any kitchen. To keep them looking great, however, you need to make sure they stay clean. Unfortunately, the wrong cleaning solution can cause irreversible damage. Here are the best ways to clean quartz, along with some tips for keeping your countertops stain-free.
Routine Daily Cleaning
Dip a soft cloth rag or non-coarse sponge in a mixture of warm water and mild dish soap. Gently wipe down the countertop until it appears clean. Rinse away the soapy residue using a soft, moist cloth. Allow the surface to air dry.
Removing Dried Gunk
The best way to remove gooey, dried food is to use a pliable plastic putty knife. Wet the surface first to reduce friction. Scape gently, applying as little force as necessary. Avoid using metallic putty knives since they can scratch quartz surfaces.
Clean any remaining residue using a degreasing cleaner. Read the label to make sure it is suitable for quartz countertops. Avoid using bleach since it can discolor quartz. If you plan to use disinfectant wipes on your countertop, these must also be bleach-free.
Dealing with Stubborn Stains
You can use adhesive remover to rub off tough stains. Take a clean moist cloth and apply a quartz-compatible cleaner such as Goo Gone. Pour the cleaner directly onto the stain and allow it to sit for 5 to 10 minutes before wiping it away. Afterward, you should gently clean the countertop with dish soap and warm water.
You can also use isopropyl rubbing alcohol. Just make sure to thoroughly wash the quartz countertop when you're finished. Some people recommend using glass cleaner to wash quartz, but certain manufacturers warn against this. To be safe, you should only use sprays or cleaning products that are specifically made for use on quartz counters. Ask your countertop supplier anytime you are unsure about whether a specific cleaning product will harm your quartz countertops.
Preventing Stains
As the old saying goes, an ounce of prevention is worth a pound of cure. To keep your quartz countertops looking great, it's best to keep them clean using the following tips.
Clean Spills Right Away
Although engineered stone like quartz is made to resist stains, you shouldn't let spills and drips sit too long. Quickly wipe up any droplets of liquid or food splatters so they don't have time to create stains. Be especially careful with wine, citric drinks, and dark-colored foods which are more likely to cause permanent discoloration.
Avoid High Temperatures
Protect your quartz from hot temperatures by using trivets or mats to hold your hot pans, crock pots, and electric skillets. Never place very hot pans or pots directly onto your quartz countertop or it could cause unsightly damage.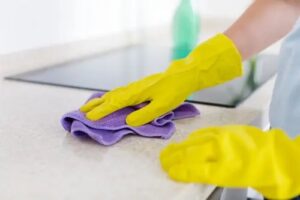 Use A Cutting Board
While quartz is scratch-resistant, it isn't scratch-proof. It's always best to keep a cutting board on hand for cutting, chopping, and slicing food.
Avoid Harsh Cleansers
Highly acidic or alkaline cleaners will damage quartz counters. If a harsh solution splashes onto your countertops; quickly wipe it away using a wet cloth dipped in water and a mild detergent. Keep oven cleaner, nail polish, turpentine, bleach, drain cleaners, methylene chloride, and all other harsh chemical agents away.
Is Quartz Easy to Clean?
Since porous countertops tend to absorb liquids, they are vulnerable to stains and bacterial growth. On the other hand, nonporous countertops are virtually impervious to liquids, making them very stain-resistant and much easier to sanitize and clean.
This is what makes nonporous quartz countertops perfect for both kitchen counters and bathroom vanities. In addition to being nonporous, quartz counters are solid manufactured products, making them more durable than most other countertop options. This makes them a great choice for homes with young children who could accidentally damage weaker countertop materials.
Like other varieties of engineered stone, quartz comes in diverse textures and colors that can mimic the look of other stone countertops while offering very good durability. Maintenance is usually as simple as wiping the surface with clean warm water and mild dish soap, and it doesn't need to be resealed at any point after installation.
Looking to upgrade your countertops to a stunning natural or engineered stone product? Rock Solid has gained a hard-won reputation for being the best, most reliable granite counters company in the Denver metro area. Employee-owned, our company does it all from start to finish. This means we never outsource any key jobs to subcontractors. When homeowners work with our skilled, courteous experts, they can expect stunning natural stone countertops that stand the test of time.