Skip to Content
Countertop Refinishing Guide
Countertop refinishing is often marketed as an affordable alternative to total countertop replacement. While you can save some money by refinishing your existing countertop surfaces, there are some compelling drawbacks you should be aware of. This helpful guide to countertop refinishing provides several need-to-know facts to help you make an intelligent investment that looks beautiful and stands the test of time.
The Process
Counter refinishing is essentially the process of using bonding agents to resurface a countertop. The agent establishes a chemical bond between the existing and new surfaces, creating a fresh, attractive appearance that's both durable and functional. The process involves thoroughly cleaning the countertop and filling any gouges, scratches or nicks. The surface is then dried and sanded before a bonding agent is applied to hold the actual new surfacing material.
You can do this yourself using special kits, which include a wetting agent, base coat, decorative chips, and a protective sealant. You can also hire a professional to resurface your existing countertop, but this can be expensive, and the process will generally need to be repeated from time to time.
Base Materials
Refinishing won't work very well with certain countertop surfaces, including zinc, stainless steel, reclaimed wood and epoxy. In general, you shouldn't attempt to refinish your countertop unless it is made of one of the following:
Porcelain or ceramic tile
Solid surfaces including Corian
Natural or cultured stone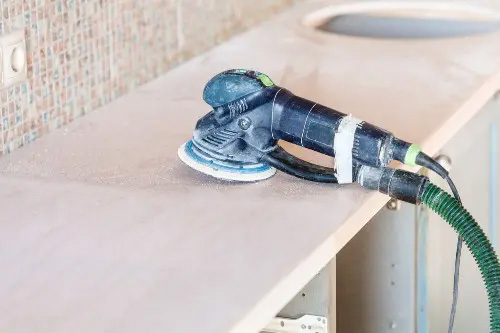 The Pros and Cons
The primary benefit to countertop refinishing centers on cost. Compared to replacing your countertop, refinishing costs less. That said, this cheaper option also comes with plenty of drawbacks, including:
They tend to look cheap. While refinished countertops might look fine from a distance, a close inspection tends to reveal that they are inferior to natural stone. In most instances, they don't elevate the look of a kitchen or bathroom; in fact, it's usually quite the opposite.
They chip easily. While they are often marketed as durable and long-lasting, refinishing products aren't nearly as durable as natural stone. Quite often, they will chip over time, especially around edges and corners. Even if they end up looking good for a while, you can bet that refinished countertops will lose their luster in a relatively short amount of time, especially if you subject them to daily wear and tear.
They require upkeep. If you want a nice return on investment, stone countertops seriously outperform refinished countertops. With countertop refinishing, you must repeat the process every so often. This can become an expensive headache for busy homeowners who often wish they'd invested in natural stone which remains durable for decades, even when subjected to the daily demands of daily kitchen activities.
They can be toxic. Although epoxy countertops are considered food-safe surfaces, the chemicals which combine to generate the end product do contain VOCs (volatile organic compounds). This forces you to take extra care when mixing and applying the product to avoid inhaling toxic fumes.
It's a one-shot deal. There are no second chances when applying epoxy countertop refinishes. While it can be durable, epoxy is a very unforgiven substance. The patterns and colors you are creating can be a bit unpredictable, and many homeowners end up winging it while hoping they end up liking the final product.
It's hard to mimic stone. While it may seem like an affordable alternative to natural stone, an epoxy countertop requires the work of an artist to get the specific swirls and veins of natural stone. You can view all of the video tutorials in the world, but unless you have considerable skill and experience, you're likely to end up disappointed with the results.
Is It Worth It?
Is refinishing a good option for your discolored, damaged or worn-out Denver countertops? This all depends on your abilities, experience and tolerance for risk. If you know what you're doing, you might be able to produce a beautiful finish that holds up over time. More often, homeowners tend to get in over their heads and ultimately end up regretting the choice. In most cases, people are much happier when they choose to replace their existing counters with new natural-stone countertops that are guaranteed to look stunning and remain durable for years.
Rock Solid has gained a hard-won reputation for being the best, most reliable granite counters company in the Denver metro area. Employee-owned, our company does it all from start to finish. This means we never outsource any key jobs to subcontractors. When homeowners work with our skilled, courteous experts, they can expect stunning natural stone countertops that stand the test of time. Contact us today for a free estimate on your next countertop project!