Skip to Content
How to Resurface Granite Countertops
Granite countertops are very tough and resilient. That said, there may come a time when your countertop might need a refresh. In other instances, your countertops may need to be replaced altogether. Read on to learn when to resurface your granite and how to get optimal results.
Should You Do It?
Sometimes granite countertops can be refreshed without wholescale resurfacing. If you have dings or cracks, you may be able to repair them with an epoxy patch. If water no longer beads up on your granite, you could get by with a fresh coat of sealant. On the other hand, if the granite looks especially bad, resurfacing may not be enough to restore its look.
While granite countertops can remain durable and beautiful for decades with proper care, things don't always go as planned. If yours look especially weathered, you might find yourself in a position where replacement is the best, most reliable option. If your countertops are stained, cracked, or otherwise damaged, a quality replacement can bring your kitchen back to life.
If you are worried about the cost of replacement, you have other options, including concrete, quartz, marble, quartzite and more.
If you're still planning to resurface your granite, use caution. It's quite common for homeowners to get in over their heads with this kind of project. Unless you have a good amount of experience, the resurfacing process is fraught with pitfalls. To be safe, it's usually best to hire a professional Denver granite countertop company to perform the task. Unfortunately, this extra expense will likely offset any potential savings you may have enjoyed by resurfacing your granite countertops. In many instances, homeowners discover that they are better off buying new countertops instead of trying to resurface their old ones.
If you are dead set on trying, however, here are the steps you should take:
Use a Kit
If you're an amateur do-it-yourselfer, it's generally best to purchase a resurfacing and resealing kit. A standard restoration kit will contain some type of abrasive scrubbing compound, a crystallizer and a sealer, which will typically be solvent-based. A few kits will also come with microfiber cloths and a coarse sponge for scrubbing. The kit will not usually include any sort of polishing equipment, such as an electric polisher or lambswool pads.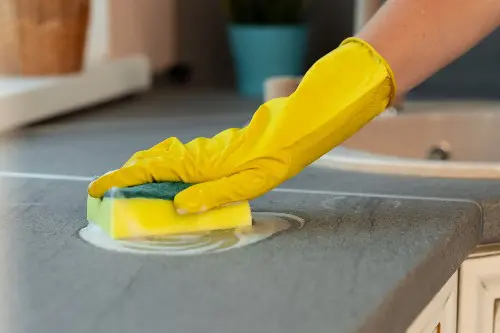 Prepping Your Countertops
Before you get started, carefully inspect the countertop for oil stains, which look like dark areas on the granite. To remove these blemishes, mix equal parts baking soda and acetone to create a thick paste. Then spread this mixture on each spot. Allow it to sit for about 24 hours before brushing it away and rinsing the granite with water.
If your countertop has some noticeable chips or nicks, consider filling these with a clear epoxy.
Using Your Kit
Below you'll find basic instructions for using a DIY granite resurfacing and resealing kit. Bear in mind, however, that not every product is formulated the same. Always carefully read the instructions that come with your specific kit.
Apply a generous measure of scrubbing compound to the granite and work it into the natural stone using an abrasive pad, such as a fine steel wool pad or an abrasive kitchen scrubber.
Let the mixture sit on the stone for around five minutes to dissolve any mineral deposits; then wipe it all off using a clean microfiber cloth.
Spray an even layer of the crystallizer on the countertop and spread it around using a new, fresh microfiber cloth.
Pour a good amount of sealer on the granite and spread it using a scrubbing pad instead of a cloth.
The whole countertop should have a nice wet coat of material so the product will effectively sink into the stone's pores. Let it sit for five minutes, but don't allow it to dry out. After five minutes, wipe the granite clean using another fresh microfiber rag.
Is It Worth It?
Is resurfacing a good option for your discolored, damaged or worn-out countertops? This all depends on your abilities, experience and tolerance for risk. If you understand what you're doing, you might be able to create an adequate finish that lasts. Just as often, homeowners end up with disappointing results. In the end, it's often much safer to simply replace your existing granite with new countertops that are guaranteed to look beautiful and last for years.
Rock Solid has gained a hard-earned reputation for being the finest, most reliable granite counters company in the entire Denver metro area. Employee-owned, our local company does it all. This means we don't outsource any important jobs to subcontractors. When homeowners work with our experts, they can expect gorgeous natural stone countertops that stand the test of time.