Skip to Content
Why Leathered Granite Countertops Are Trending
Chic yet rustic, fashionable and unique, leathered granite is beautiful to behold and easy to maintain. Read on to learn why this countertop option has become so popular.
What Are Leathered Granite Countertops?
Traditionally, when people chose a finish for their granite countertops, they selected between honed and polished. These days, however, more and more homeowners are opting for a leathered look.
The newer style finish has gained considerable traction in the design world. It features a nice soft sheen that's less intense than polished granite and includes a lightly textured appearance. The stone's texture is composed of subtle dimples impressed into the natural stone by diamond-tipped brushes. The end result can vary based on your preference. Leathering can leave a granite slab as smooth or rough as the homeowner desires.
If you can imagine a standard polished kitchen countertop, where you can almost see your reflection, this would be the opposite. Leathered granite provides a sleek, smooth, non-reflective countertop surface. This type of finish will also give the granite a textured appearance, providing your countertops with a sense of subtle character. While leather countertop finishes retain more of the granite's natural color, they are most commonly applied to darker stone.
Pros and Cons of Leathered Granite Countertops
While the finish mainly provides a nice aesthetic variation, leathered countertops also provide a few benefits over polished stone.
For one, leathered granite resists stains better than honed granite. It also disguises water spots and smudges better than polished granite. Leathered granite will better accentuate your stone's natural color compared to a honed finish. That said, since leathered finishes are non-reflective, they can make small spaces seem slightly smaller.
Pros
Conceals fingerprints and smudges
Enhances the granite's natural color
Moderately resistant to stains
Cons
The non-reflective surface can make rooms seem smaller
Cleaning can be slightly harder due to reliefs in the stone
Any accidental chips or scratches in granite will be noticeable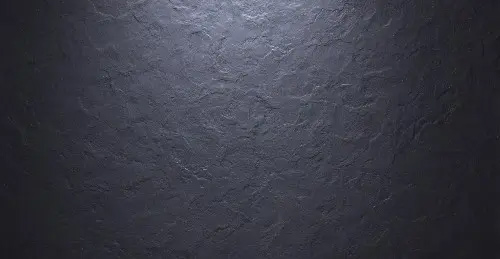 Since leathered finishes close the pores in the granite, they create a smoother finish without as many divots or dips where crumbs and dirt can hide. This can make them easier to clean.
While leathered granite can hide stains, polished and honed granite requires a little more care. Still, you will have to re-seal your leathered granite from time to time; but the same holds true for honed or polished countertops, which generally have to be re-sealed more frequently.
When it comes to beauty, leathered granite really stands out. It has a unique style that looks great in rustic or historic homes. Its natural look appears to have come straight from the side of a mountain in contrast to polished granite, which has more of an ethereal, high gloss feel. It really lets the personality of the natural stone come through.
One of the best things about a leather granite finish is the way it feels. Depending on the nature of the finish, leathered granite can have a nearly smooth or super-texturized feel. This sort of customization isn't available with any other kind of honed finish and depends greatly on personal preference and the perceived existing texture of the cut granite.
Granite stone can have a compelling natural texture that's often eradicated by the aggressive sandblasting associated with traditional finishes. To the skin, leathered granite will feel like a living piece of history, fascinating your guests while bringing compelling beauty to your home.
Whether your granite countertop is Kashmir, black or green ocean, a leathered finish will really make it pop. While polishing misconstrues sheen for shade and honing can often dull granite's natural hue, leathering brings out the stone's natural color and makes it the star of the room.
Aesthetically speaking, leathered granite provides a nice look that matches well with a variety of kitchen design themes. That said, when determining the best finish for your home, it all comes down to personal taste. Some people love highly reflective surfaces, while others prefer matte finishes.
Regardless of which you choose, you'll always have an amazing Denver countertop when you work with Rock Solid Custom Granite.
Our experts can help you decide on the perfect granite countertop finish for your kitchen or bathroom. Serving all of Denver and the surrounding area, we provide beautiful natural stone countertops and custom cabinets. When Colorado homeowners work with our talented experts, they can expect the finest workmanship and best materials, guaranteed. Contact us to learn more and get your free estimate today.