Skip to Content
Ideas For Decorating Your Bathroom
Although your home's bathroom was built to serve a very basic and practical purpose, it doesn't have to look like a dreary utility room. These days, more and more people are looking to their bathrooms as spaces for sanctuary and relaxation—places to drown out a stressful day by soaking in a nice tub amid candlelight or taking a soothing shower. If you are looking for some inspiring design ideas for decorating your bathroom in Littleton, contact Rock Solid Custom Granite and visit their showroom.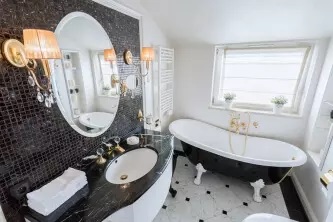 Be Inspired
Before you begin decorating your bathroom, you need to decide on a design scheme. For inspiration, utilize resources such as home improvement TV shows and interior design magazines. You also can research applicable and informative websites on the Internet, which can provide you with helpful pictures. Visit a home construction or bathroom design store to check out bathroom vanities, countertops, tile work, and fixtures in person. Remember to compile all of your favorite designs or images of products in an idea book or scrapbook.
Know What You Want to Accomplish
What do you want to accomplish with your bathroom design? Are you looking to create a spa-like environment? Is your style classical, contemporary, shabby chic, industrial, or minimalist? What is your budget and will it allow you to do what you want to do? What materials are you interested in using? These are some of the questions you need to ask yourself when planning a design scheme. Having a clear goal for your project will ensure that you end up with a room that you love.
Don't Be Afraid to Experiment
Decorating is an art, not a science. Don't be afraid to think outside the box when choosing fixtures or materials. Often, unexpected design decisions add visual interest, whimsy, and even sophistication to a project. Be tasteful and let your personality shine. When in doubt, consult a trained professional to help you refine your design plans.