Skip to Content
Looking at Today's Most Popular Colors for Granite Counters
Granite countertops in Littleton, Highlands Ranch, and Parker come in a variety of colors. From white to red to black, homeowners can have their pick of colors for their granite countertops. Some of these colors may be rare to see on some counters, but that also makes them popular choices when creating a bold new look in the kitchen or bathroom. Here is a closer look at some popular granite countertop colors.
Most Popular Granite Colors for Countertops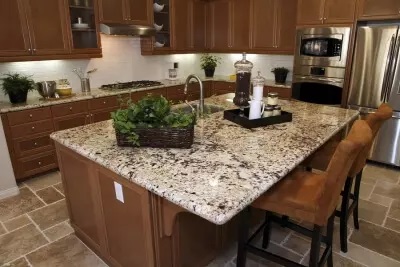 White With Colored Flecks
Though pure white granite is difficult to find—due to the natural processes under which granite forms—it can often be found with various specks of color. White granite will often have gray or black flecks and veins throughout the slab. However, white granite can also be found with bright colors like blue, gold, red, and green.
Black or Gray Counters
Black and gray granite countertops are very popular in kitchens, especially when paired with light brown cabinets. Though black and gray are some of the more common granite colors, they should be used with caution throughout the house. Black and gray granite can darken a kitchen or bathroom if the surrounding décor is not planned. For example, black granite should be paired with lighter-colored cabinets and paint.
Brown or Beige Counters
For a more neutral tone throughout the kitchen and bathrooms, brown, tan, beige, or light gray granite is a great choice for granite countertops. Most of these granite colors can be paired with a variety of colors and decorating schemes in the kitchen and bathrooms. Most of these colors will have flecks and veins of white, black, or other colors that can tie into a bolder color scheme if desired.
Colored Granite Counters
Granite slabs can also be found in reds, blues, and greens, though they are not as common in kitchen and bathroom designs. However, due to their rarity, these colors can make a bold design statement when installed in a kitchen or bathroom. Paired with the right cabinet and paint colors, these granite countertop choices are sure to be an exciting talking piece.