Skip to Content
Tips for Selecting the Right Cabinets for Your Bathroom
Your bathroom cabinets are just as important as your bathroom countertop in Littleton, Highlands Ranch, and Parker. The cabinets will add style and color to your bathroom design, so it is important to use various resources to help you pick out the right bathroom cabinets. Use the following tips to help you find the perfect cabinets for your bathroom.
Here's How to Select Bathroom Cabinets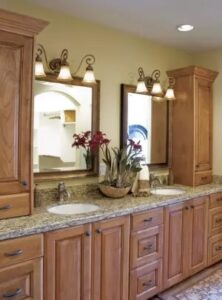 Tip #1: Analyze Your Habits
Selecting bathroom cabinets should be a personal decision based on how you use your space. It is important to analyze your habits in the bathroom and design your cabinets around those habits and feelings. For example, you may see your bathroom as an oasis away from the world where you can relax. Your new cabinetry can help facilitate that dream with increased space for towels and relaxation products. You may also install shelving to hold candles, aromatherapy products, or a music station.
Tip #2: Study Style Resources
There are several different style resources that you can study to help determine the right cabinets for your bathroom. You can examine magazines, online pictures, and catalogs from your bathroom and kitchen remodeler. There are several different styles to consider for your bathroom, and there are many trends that may appeal to you. Pick out your favorites and hang pictures in your bathroom. You will get a better idea of the styles and colors you like when you see them every day. If you understand the different styles of cabinets, then you will have an easier time selecting the right cabinets for your bathroom.
Tip #3: Consider Your Style
Examine the overall style of your house, rooms, and bathrooms. This may influence the type of cabinets you choose. For example, your house style may have a modern theme with sleek lines and dark colors. Your bathroom cabinets should not clash with the rest of your house. If you dislike the current style of your home, then consider a kitchen and bathroom remodel at the same time to update your style.