Skip to Content
Should You Replace or Reface Your Kitchen Cabinets?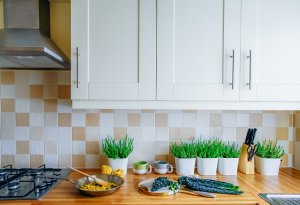 Are you wondering when to replace kitchen cabinets? Many homeowners are reluctant to remove cabinets with plenty of life left just because they're tired of the style. Others may want a completely new cabinet layout to go with an all-new kitchen. These are the factors to consider when deciding whether to replace or reface.
So, Should You Replace or Reface Your Kitchen Cabinets?
Benefits of Cabinet Refacing
Refacing gives your kitchen a whole new look simply by removing and replacing the drawers, doors, and hardware of your cabinetry. The frames of the cabinets are left alone, which drastically reduces the project timeline and costs compared to complete replacement.
Some homeowners simply opt to repaint, refinish, or add a veneer to their existing doors. You can also replace the drawer pulls if you take this route. Others have the drawer interiors sanded and repainted, adding rotating shelves and other storage solutions. You can even opt to replace drawer tracks and rollers for smooth operation.
Cabinet refacing is an attractive option for those who live in older homes. That's because they feature a more durable cabinet frame than the frames used in recent construction.
The average refacing project takes less than a week. You can choose from a range of new cabinet fronts, including laminate, wood veneer, and solid wood. Although you may be able to add cabinets with refacing depending on the kitchen size, you won't be able to remove any existing frames.
When to Opt For Replacement
Changing the layout of your kitchen requires a complete cabinet replacement. If you need more cooking, storage, or entertaining space, refacing the cabinets won't fix the overall issues with space.
You should get new cabinets when the ones in your kitchen are damaged, rusted, compromised, poorly constructed, or disposable. Structural problems such as settled floors can cause cabinets to shift and limit their utility. Water damage is also a good reason to replace cabinets, especially when there is mold growth.
Although kitchen cabinets painted before 1978 can be refaced rather than replaced, many decide to go with replacement in this case to avoid the risks associated with lead paint exposure.
Homeowners who need a complete kitchen renovation to enhance functionality should budget for new cabinets as part of the process. When it's time to shop kitchen cabinets in Denver, browse the beautiful custom designs available at Rock Solid Custom Granite. Our family-owned business offers free consultations with our kitchen design experts at two convenient locations: Littleton and Durango, Colorado. We look forward to helping you create your dream kitchen whether it's just a facelift or a complete redesign.