Skip to Content
Design Ideas for Your Kitchen Countertops – 2018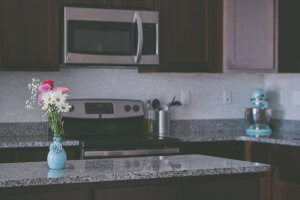 The kitchen is one of the busiest rooms in a household. If you plan on living in your home for many years to come, it is a good idea to invest in a sturdy and functional kitchen countertop that will stand the test of time when it comes to wearing and trend. There are a wide variety of ways you can update your kitchen's look. Kitchen countertops are one portion of the kitchen that are used daily and always stand out. If you are going to remodel your kitchen, we suggest starting with your kitchen countertops. At Rock Solid Custom Granite, we have helped hundreds of customers in Colorado pick out just the right countertop design to fit their home.
Upscale Ideas
If you are looking for a more luxurious kitchen countertop design, there are plenty of materials to choose from at Rock Solid Custom Granite. Marble is one of the most popular styles because it has a beautiful, personalized design and lasts a long time. This upscale natural stone is available in a variety of patterns and colors, making each countertop different from the rest. Marble does need special maintenance to keep it in pristine condition, but that's a small factor to consider in comparison to how it improves the entire appearance of one room.
Soapstone is similar to marble in its visual appeal and the effect it has on overall kitchen aesthetics. However, soapstone has lower maintenance demands and can withstand heat very well. It's chemically neutral, meaning no damage from spills, and also comes in a variety of designs. These high-quality countertop designs will make your kitchen look more spacious and luxurious.
Budget-Friendly Choices
Kitchen renovation and remodeling can sometimes cost more than you might expect. This requires compromises in selecting materials, the time allotted to complete the project, and more. However, a quality kitchen countertop can still be purchased on a budget. Granite materials go exceptionally well with bright colored kitchens. The polished surface is very reflective, which will make your kitchen look cleaner.
Travertine is also a budget-friendly option that has a natural feel to it. This material goes well in a simple kitchen design focused on functionality rather than aesthetic appeal. Combining it with mildly colored elements can turn a dull kitchen into a warm pace. Our stores in Littleton and Durango have many countertop materials to choose from, in all sorts of colors and pattern materials
Ask Us for Advice
Rock Solid Custom Granite has been in the countertop business for a long time, and we have extensive experience to share with our customers. You can visit one of our stores today to see the plethora of kitchen countertop materials we offer that will match your creativity and design style.