Skip to Content
Top 6 Outdoor Kitchen Countertop Ideas
Outdoor kitchens can extend your living space and provide a perfect area for entertaining. The right countertops can add dramatic beauty but only if it's appropriate for outdoor use. Read on to learn the pros and cons of the following common exterior outdoor countertop materials.
Granite
Granite countertops are difficult to beat for all-around color choices, maintenance, ease-of-use and durability. They can hold up well against the weather and all the food, drinks, barbecue sauces and fun associated with outdoor dining and entertaining.
Granite won't discolor, etch or lose its beautiful shine. While it can help to apply a sealer, many varieties are dense enough to hold up very well without any sealer. That said, if you decide to stain a granite countertop, it will fade in the rain and sun over time. Still, with routine cleaning and proper maintenance, exterior granite countertops usually look great for years. They also come in a nice variety of colors and patterns to match your exterior design scheme.
Quartzite
These countertops are also nice choices for backyard kitchens. With the same essential qualities as granite, quartzite is hard, durable and relatively low-maintenance. Unlike granite, however, quartzite won't be able to withstand high temperatures. While you won't need to worry about hot weather, you will need pot holders or trivets for hot pans.
Note that quartzite (a natural stone) is not quartz (engineered stone). Quartz should not be used in outdoor settings because the resin used in the engineering process will turn yellow when exposed to weather and UV light from the sun.
Concrete
Concrete is another durable and versatile material for outdoor kitchen countertops. The material may nick and scratch a bit easier than granite, but it still holds up well in general. Unfortunately, the coloring tends to fade or yellow under the sun. This isn't as big a problem if you choose lighter earth tones or keep your countertop shaded. While concrete is a functional option, bear in mind that most people prefer the look and durability of natural stone.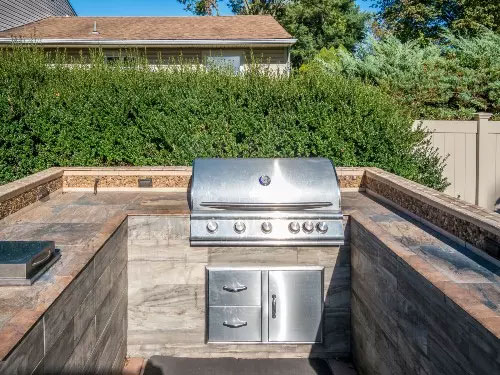 Soapstone
Soapstone is another fine choice for exterior kitchen countertops. The material is heat- and stain-resistant but does scratch rather easily. Fortunately, the scratches can be sanded smooth without much trouble. When left unoiled or unsealed, soapstone can accumulate fingerprints and stains from liquids and oils.
Applying mineral oil can help your soapstone shine, but you have to do it regularly to keep that look. Overall, soapstone is a relatively durable and trouble-free countertop surface for outdoor kitchens. That said, being a dark stone, the material can get hotter under the sun compared to other light-colored materials which reflect heat.
Marble
Marble countertops are fine choices for outdoor kitchens if you get a durable honed finish and don't worry about staining or etching too much. A honed finish will help keep snow, rain and wind from wearing away that shiny polished finish.
Unfortunately, acidic drinks and foods will etch marble surfaces. A stone sealer can help, but there's still a risk of marred spots over time. Weather can help wash out stains and blend in etch marks to create an attractive rustic look.
The countertop material is definitely durable enough but requires regular maintenance to keep it looking relatively new-ish. That said, if you let your exterior marble countertop age naturally, it's almost maintenance-free. Normal clean-up is still important to keep the surface functional and aesthetically pleasing for years of use.
Slate
Slate can be used for outdoor kitchen countertops, but the performance characteristics can vary. Some slates can be very dense and durable resisting hard use and stains, while others will cleave, crack, scratch and stain.
Similar to soapstone, darker-colored slate will get hot under the sun. If you can get a high-quality slate slab, you should be in good shape. Unless you can get guarantees about the quality of the slab, however, other choices are generally better.
Unsure which type of countertop to use for your outdoor kitchen? Rock Solid's experts are here to provide expert recommendations.
Rock Solid has gained a hard-earned reputation for being the finest, most reliable granite counters company in the entire Denver metro area. Employee-owned, our local company does it all. This means we don't outsource any important jobs to subcontractors. When homeowners work with our experts, they can expect gorgeous natural stone countertops that stand the test of time.
To get started on your next outdoor kitchen countertop project, contact us today for a free estimate.