Skip to Content
Can You Paint Granite Countertops?
A new coat of paint can freshen up a room and brighten a home's exterior. But can it be used to refinish your granite countertops? Read on to learn the potential benefits and problematic pitfalls that come with this sort of do-it-yourself project.
Why Would You Do It?
There are several reasons why someone might want to paint their granite countertops, not the least of which is covering an ugly color choice. Many times, people choose to paint their granite because they want a fresh look but don't want to pay for new countertops.
Unfortunately, it's common for people to get in over their heads with this type of project. Paint simply will not stick to granite unless you take some key steps to prepare the underlying surface. First, you will have to chemically or mechanically etch the granite to promote adhesion. Then, you will have to apply a high-quality epoxy coating or professional polyurethane specifically designed for countertop use.
Unless you know what you're doing, this type of project is fraught with pitfalls. It's very easy to ruin your countertops, especially if you're not a skilled, experienced painter. To be safe, it's generally best to hire a professional Denver countertop company to do the task. Unfortunately, this expense will likely offset any savings you might have enjoyed by painting the granite countertops. In many instances, homeowners find that they are better off purchasing new countertops instead of trying to refinish their old ones (click here to learn more about removing granite countertops).
If You Decide to Paint
If you're willing to accept a bit of risk, you can paint your granite countertops. But it's important to understand that this will require a lot of meticulous work. First, you will have to remove any and all silicone caulking and clean up residue using rubbing alcohol. You will then have to scrub the countertops with a water-based, degreasing soap and thoroughly rinse the granite with clean water to remove soapy residue, which can inhibit adhesion.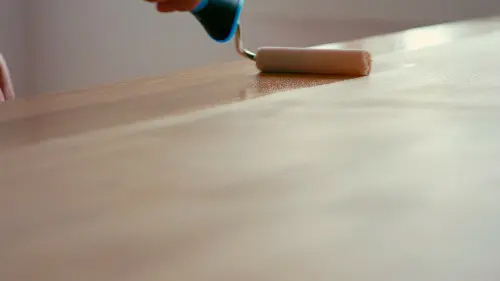 Since smooth, glossy surfaces do not hold paint well, you will have to abrade (roughen) the granite to make sure the primer and paint stick. You can do this mechanically using sandpaper. An electric sander will save you a lot of time and pain, but it's important to take your time and not miss any small areas. If you do, the new primer and paint will start to chip and peel, and this can easily spread throughout the new finish.
You can also abrade your granite countertops using a chemical etching product. Since these chemicals are very harsh, you will want to follow the manufacturer's instructions to the letter. Once the countertop is abraded and clean, you'll want to mask off any areas you don't want painted. After you've thoroughly covered these areas using plastic and tape, you'll have to apply a quality primer. Make sure the primer is compatible with the epoxy coating or professional polyurethane you plan to use for your granite.
Once you've allowed the primer to dry according to the manufacturer's instructions, you can finally paint. It's vital that you use a finish that's specifically made for countertops. Ordinary paint is not going to hold up to water, food and general wear and tear. Unfortunately, many amateur do-it-yourselfers have a hard time smoothly applying thick epoxy coatings without leaving noticeable brush strokes. This is yet another reason why many end up disappointed with their final results.
Some people choose to add veining to their painted countertops by painting freehand with a brush. If you choose to try this, bear in mind that you will have adhesion problems since you will be painting over a glossy epoxy or polyurethane finish. For this reason, it's very important to paint the veining patterns over the primer before you apply your paint. After you paint, you will also need to apply a chemical sealer to keep the finish from fading over time.
Is It Worth the Risk?
Is painting a good option for your damaged, discolored or worn-out Denver granite countertops? This all depends on your experience, abilities and tolerance for risk. If you know what you're doing, you may be able to generate a beautiful finish that stands the test of time. More often, homeowners get in over their heads and end up regretting the choice. In the end, it's probably safer to simply replace your existing granite with new natural-stone countertops that are guaranteed to look great and last for years.
Rock Solid has gained a hard-earned reputation for being the finest, most reliable granite counters company in the entire Denver metro area. Employee-owned, our local company does it all. This means we don't outsource any important jobs to subcontractors. When homeowners work with our experts, they can expect gorgeous natural stone countertops that stand the test of time. Contact us today for a free estimate on your next Denver countertop project!